Application Solution-based System
An Optimal System, Including Pretreatment Unit, Can Be Configured.
The following is recommended as the optimal system. We offer total support for all systems.
| | |
| --- | --- |
| AOC-6000 multifunctional autosampler | Supports injecting samples concentrated by SPME, injecting HS samples,or injecting liquid samples. |
| GCMS-TQ8040 | Enables detection of trace components by MRM analysis. |
| Sniffer-9000 (Brechbühler) | If a candidate odor component is identified in a chromatogram, this unit can be used to confirm the odor. |
| OPTIC-4 (GL Sciences B.V.) | Supports injecting samples using a Monotrap. |
Note 1:
Sniffers other than the Sniffer-9000 may be used in some cases. Contact your Shimadzu representative for details.
Note 2:
The system does not support the OPTIC-4 LINEX function.
Note 3:
Monotrap is a registered trademark of GL Sciences Inc.
The following models may be selected depending on customer requirements.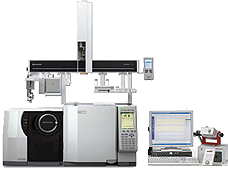 GC/MS : GCMS-QP2010 Ultra Autosampler : AOC-5000 Plus, AOC-20i/s
Change Columns without Releasing the Vacuum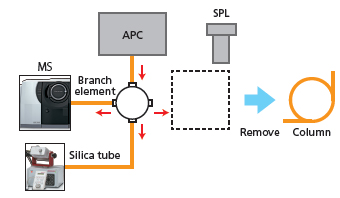 This minimizes system downtime due to changing columns. Note: Available when using a splitter system that splits flows between detection by the MS and the sniffer unit.
Shimadzu makes no warranty regarding the accuracy of information included in the database or the usefulness of information obtained from using the database.
Be sure to perform tests using standard samples to confirm qualitative and quantitative information obtained using the given system.
To reliably identify registered substances using this database, measure samples using the instrument parameters specified in method files included with the product.
For Research Use Only. Not for use in diagnostic procedures.
This page may contain references to products that are not available in your country.
Please contact us to check the availability of these products in your country.