Nexera Mikros
Micro-Flow LC-MS System
Key-Features
Increased sensitivity
Reduced sample volume
Unsurpassed robustness
User friendly
Sensitivity enhancement for lipid mediators with micro-flow LCMS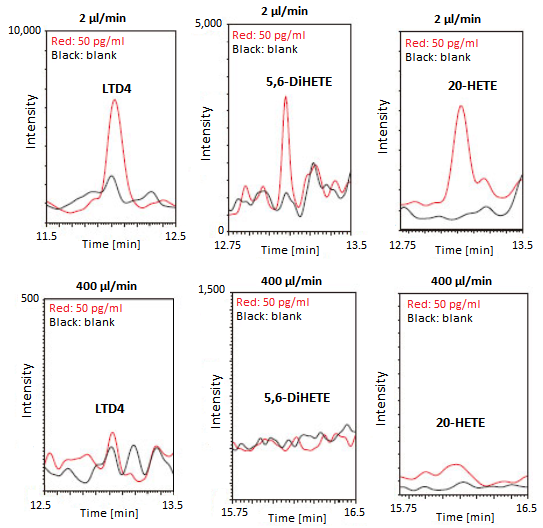 Increased Sensitivity of a Micro-Flow System with the Ruggedness of Standard HPLC
User-Benefits
Increased sensitivity provides lower LOQs for more accurate quantitation in DMPK studies and lower LODs for detection of novel biomarkers
Micro sampling is less invasive to the patient while saving cost for delivery and storage
Ruggedness and ease of use of Nexera-Mikros increase throughput and lab efficiency
Nexera™ Mikros and nSMOL™ Antibody BA Kit
Background
The nSMOL Antibody BA Kit is a ready-to-use reagent kit for collecting monoclonal antibodies from blood or other biological samples
Fab-derived peptides are quantified via MRM measurement on a high-sensitivity mass spectrometer.
Nexera Mikros achieved signal intensities 12 times higher than with conventional flow rates, with a corresponding lower limit of detection of 0.025 μg/mL and good linearity.
The Nexera Mikros system is ideal for low-level quantitation of peptides by LCMS.