Contaminant analysis program
Contaminant analysis program
By combining SHIMADZU's own algorithms (patent pending) with that of library spectra for common contaminants, this program identifies contaminants with a high degree of accuracy. Reports are automatically created after analysis, thereby reducing post-processing time to a few seconds. With automated reporting, this easy-to-use program allows operators with little FTIR knowledge to perform analysis easily.
4 features of the Contaminant analysis program
Contains spectra for over 500 highly-selected inorganic substances, organic substances, and polymers that are often detected as contaminants in
SHIMADZU's Analytical Applications Department.
Allows automation of the process, including searching,judgment evaluation, and report creation.
Incorporates algorithms that focus on spectral characteristics,rather than performing simple spectrum searches.
Major and Minor components are found and their ranks are displayed.
Identification test program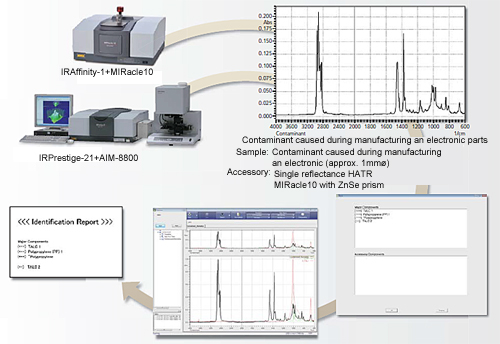 This program makes pass/fail judgments about samples in accordance with the tests specified in the Pharmacopoeia. In addition to identification tests for pharmaceutical products, this program can be used for incoming inspections and pre-shipment inspections.
4 features of the Identification test program
Prints out the spectra for standards and samples in order to facilitate easy comparison.
Calculation of the differences between the peak wavenumbers for standards and samples, differences in intensity ratios between peaks, pass/fail judgments, and print out of reports.
Detection and printing just the peaks that are specified for pass/fail judgment.
Spectra of 57 samples on Japanese Standards of Food Additives are stored in LabSolutions IR.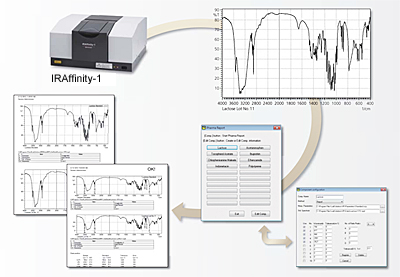 This page may contain references to products that are not available in your country.
Please contact us to check the availability of these products in your country.