Fatigue and Endurance Testing Machine with Direct Electrically Powered Actuator
Environmentally Friendly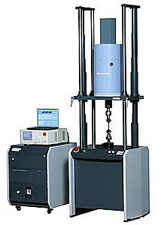 Actuating the system directly with electricity makes it highly efficient.
Generates no waste oil, which can have a large environmental load.
The instrument provides a clean site environment and does not contaminate the surrounding area.
Fast, Large Movements
Capable of sine wave cycle testing at speeds up to 2 m/s.
Offers stroke lengths up to ±50 mm.
Allows ±20 µm displacement amplitude at 200 Hz frequencies.
Low operating costs minimize overall cost
Uses as little power as possible to allow continuing tests with no waste.
Requires no hydraulic oil, filters, or other consumables.
Offers highly precise measurement and control, outstanding operability, and clever functions
Allows 24-bit rangeless, high-resolution test force measurement and control.
Offers full digital control for autotuning control parameters and waveform correction.
Allows performing offset load tests with high precision.
Allows contact tests.
Includes a specialized interactive controller that interacts via a color LCD screen and touch panel.
The testing space (vertical direction) is changed electrically, making operation easy.
This page may contain references to products that are not available in your country.
Please contact us to check the availability of these products in your country.