Triple Wavelength Semiconductor Laser Ensures Stable Measurements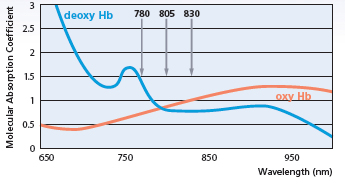 Three wavelengths are used to measure variations in the concentration of oxygenated and deoxygenated hemoglobin, which are used as indicators for brain activity.
Easy Operability Via a Graphical User Interface
An intuitive user interface allows setting advanced measurement and analysis parameters by simply clicking buttons.
[Measurement Mode]
Trend graphs are added for each task or channel, and mapping information is simultaneously integrated during measurements.
■ Real Time Monitoring Process Functions

[Analysis Mode]
■ Comprehensive Data Processing Functions
■ Statistical Analysis Functions
Permits batch processing with predetermined analysis procedures.
■ Batch Processing Functions
General linear model (GLM) statistical processing offers simple statistical analysis and evaluations at the point of measurement. The software provides various data analysis and data processing tools, including independent component analysis (ICA*), frequency filtering, adding tasks, adding channels, as well as centroid and integral values.
* Registered patent: 04379155

For Research Use Only. Not for use in diagnostic procedures.
This page may contain references to products that are not available in your country.
Please contact us to check the availability of these products in your country.