High Reliability Ensures the System Can Be Introduced with Confidence
Technology Inherited from Higher-End Models
High stability and throughput
Features dynamic alignment at 5000 times per second and a high-brightness ceramic light source)
High sensitivity comparable to general-purpose models (IRSpirit-T)
DLATGS detector with temperature control function

The silicone oil content in the paraffin oil (1.0%) was obtained by repeating the single-reflection ATR method for five times. Data obtained using the DLATGS detector with temperature control is shown on the left and data obtained using the DLATGS detector without temperature control is shown on the right. The internal heat in the instrument and the environment temperature caused large baseline data fluctuations without temperature control. In contrast, using the detector with temperature control resulted in highly repeatable data.
High Reliability Due to Humidity-Resistant Design
The robust optics are designed to ensure the system can be used reliably even under harsh temperature and humidity conditions.
Optics sealed in an aluminum die cast body Status monitor function features electrical and paper-based indicators.
Beam splitter includes a humidity-resistant coating.
Select from a KBr window (to 70% RH) or a KBS-5 window (to 90% RH) which both include a humidity-resistant coating.
* *No condensation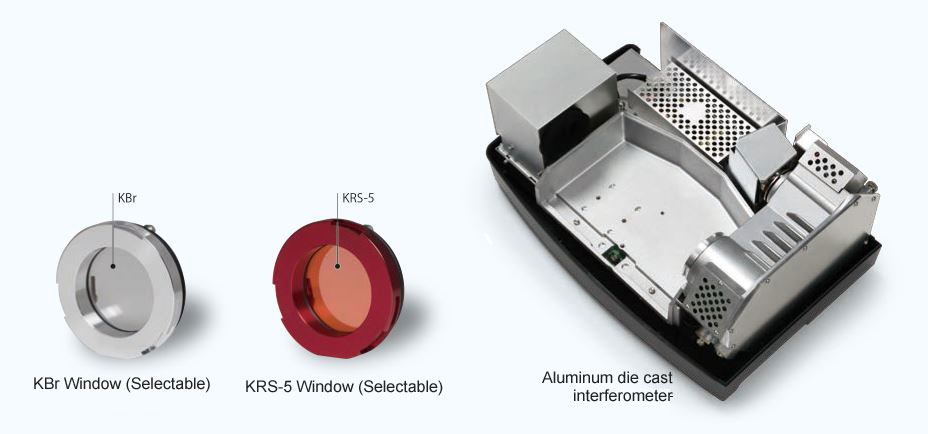 Instrument Status Monitoring
Instrument status is automatically verified during start-up and results are saved in a report. This feature is especially convenient for instrument management. Pharmacopoeia-compliant programs convenient for routine inspections are also included.
Self-diagnostic function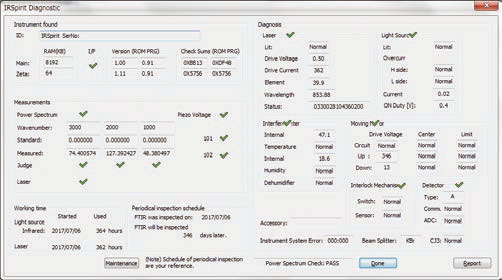 An automatic self-diagnostic function inspects the signal system and optics during instrument initialization. It obtains a variety of information and automatically outputs the results in one file, making instrument management easy. The instrument status history can also be confirmed.
Status monitor function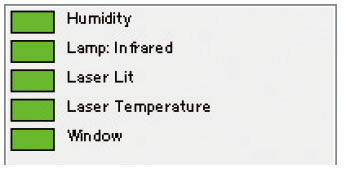 This function continuously monitors and manages information about the light source, semiconductor laser, humidity inside the instrument, the window plate connection (interlock), and accessories.