Crystal clear view : Revolutionary sample preparation for MS imaging
MS imaging is becoming more popular for various application areas for example in the clinical field to compare cancerous areas with non-cancerous ones, or in the pharmaceutical field to look for drugs's distribution and their metabolites in a tissue. If your applications require high spatial resolution which are difficult to reach by the standard techniques used to spray the matrix on tissues slices, the iMLayer will be a precious tool for your sample preparation.
The iMLayer boosts spatial resolution for mass spectrometry experiments by enabling reproducible matrix coating with small crystals. Delocalization effects are minimized which allows full use of laser focusing from the MALDI technology. You will access viewing the microstructure in your sample.
Creation of fine matrix crystals
The iMLayer is using a matrix vapor deposition technology called sublimation to enable high resolution MS imaging experiments via the creation of very fine crystals of matrix.
Minimized delocalization effects
Thanks to these fine crystals created by sublimation technology, the delocalization effects traditionally known with conventional techniques like spraying are minimized.
Good reproducibility
Through an automated matrix layer thickness control, the iMLayer enables a high reproducibility between deposit processes.
Simple touch pad operation
A simple GUI is making the iMLayer easy-to-use as a standalone instrument and lead to a sample preparation tool for any MS imaging experiment.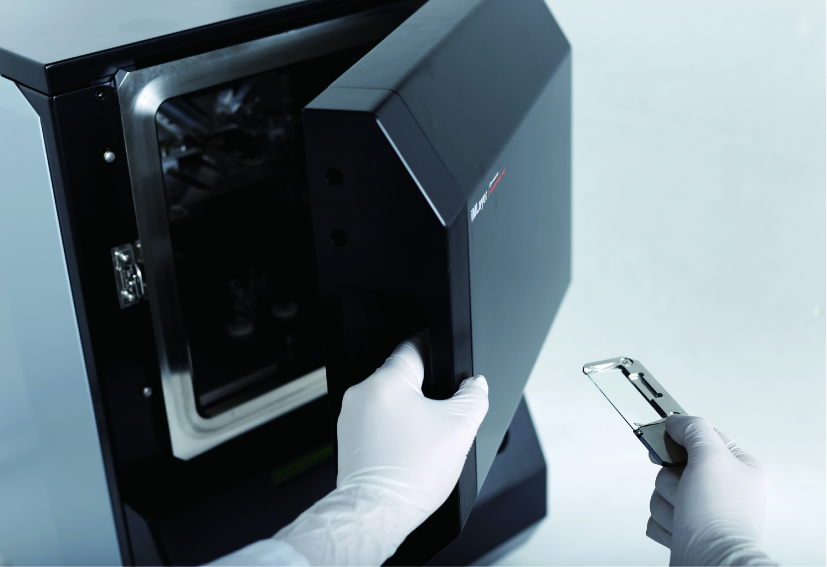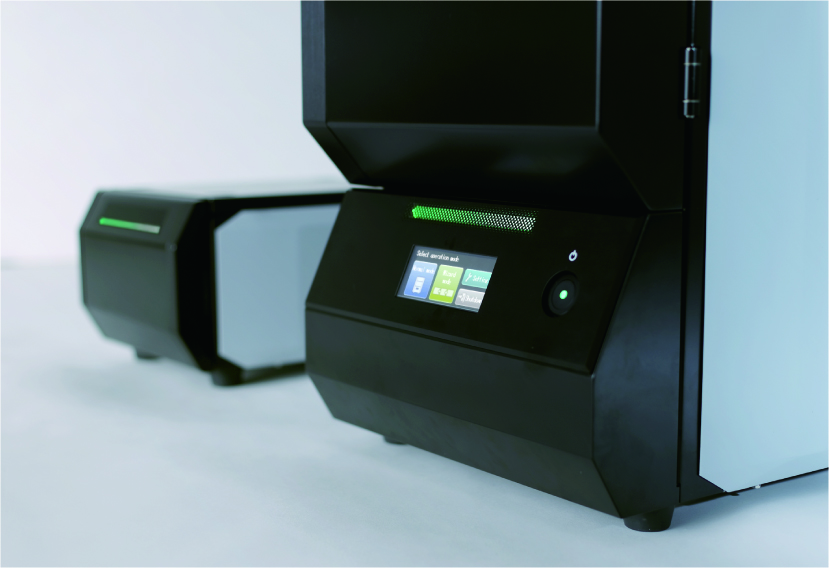 Front opening chamber for easy sample loading and Intuitive Recognition of operation status with indicator LEDs
Application Note: "An Easy Method to Apply Matrix for MS Imaging"
MS imaging with the iMScope TRIO allows matrices to be applied after detailed sample images are obtained under a microscope, without disturbing the positional information. While there are several methods that can be used to apply matrix, such as spraying, vapor deposition, or inkjet drop application, the way it is applied can have a significant effect on imaging results. The manual spraying method of applying matrix described below can be performed using simple equipment, but the proficiency level of the user can make a major difference in determining its success.
This report introduces two simple matrix spraying methods which can make a significant difference to the image result.
Matrix Vapor Deposition System iMLayer with iMScope TRIO
User's Voice : The Challenge of Discovery and Development of Pharmaceutical Products Using Imaging Mass Spectrometry: iMScope TRIO
Imaging mass spectrometry (IMS), which uses MALDI-TOF/MS analysis to identify the presence of target substances in biosamples such as tissue samples, is a cutting-edge measurement technology that is becoming increasingly popular in medical and biological research. The technology has potential not only for drug delivery and pharmacokinetics research, but also as a useful tool in biomarker research, and increasing numbers of measurements are now carried out using the iMScope TRIO. We sat down with Hidefumi Kaji, of Mitsubishi Tanabe Pharma Corporation's DMPK (Drug Metabolism and Pharmacokinetics) Research Laboratories, Research Division, and asked him about his use of this technology.