Obtaining Images of Inkjet Droplets
Visualizing high-speed phenomena has gained interest in a variety of industries. In the printing industry, for instance, there has been active research and development on printing methods using inkjet technology, typified by inkjet printers. Research is being performed to improve printing quality (in terms of resolution, bleeding, etc.) by observing the ink droplets to determine their flight, how they impact, and other characteristics. Furthermore, there is interest in using inkjet technology not only for printing, but for creating other fine patterns as well.
In this example, a HyperVision HPV-2 High-Speed Video Camera was used to obtain video images of the droplets being ejected from the inkjet nozzle. Video was recorded at a frame rate of 250,000 frames per second. Frames from 12 µsec intervals, starting at the point where the ink starts being ejected, clearly record how the tail remains attached to the droplet.
Observing the status of the ink droplets allows performing R&D on a wide variety of parameters, such as those used to move the inkjet head.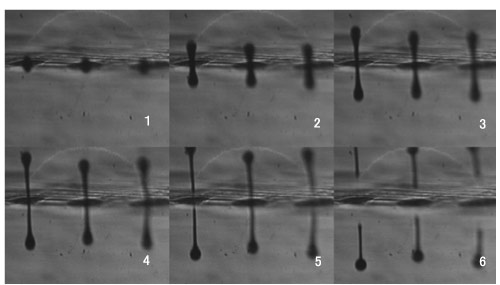 High-Speed Video Camera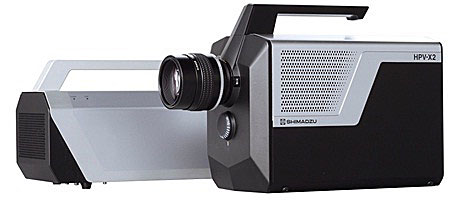 The latest Shimadzu HyperVision HPV-X2 High-Speed Video Camera offers ultra-high-speed imaging at speeds up to 10 million frames per second. In FP mode it achieves 100,000 Pixel high resolution. The HPV-X2 is perfect for observing the tiny and extremely fast-moving droplets used in inkjet technology.