Celebrating 50 Years of MS Innovation - User interviews March 2020
On the occasion of Shimadzu's 50th year of producing mass spectrometry instruments, we talk to researchers using Shimadzu MS instruments in their daily work and ask about their expectations for Shimadzu and the future of MS technology.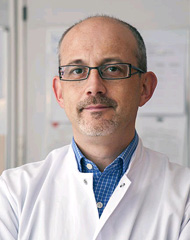 Pierre Marquet, MD, PhD
Head of the pharmacology and toxicology department at the University Hospital of Limoges, France.
Main field of study:
Therapeutic drug monitoring, clinical toxicology.
1. How did you become familiar with Shimadzu?
Through the use of Shimadzu HPLC systems for more than 30 years, GC-MS systems for almost 20 years and LC-MS/MS equipment for the last 5-6 years.
2. What is your main field of research, and how are you utilizing Shimadzu equipment?
Our main research topic is personalized medicine in organ transplant recipients. More generally, we set up analytical techniques to determine drugs or toxicants in biofluids to improve patient care. In some situations where evidence is not strong enough, we design and coordinate clinical trials to study the pharmacokinetics/toxicokinetics or the exposure-effect relationships of such compounds. Consequently, we use Shimadzu instruments to detect, identify and quantitate several hundred therapeutic drugs, drugs of abuse or environmental toxicants in blood, urine, saliva, hair, etc.
3. What are your reasons for choosing Shimadzu equipment?
We are very satisfied with the quality, robustness and value for money of Shimadzu equipment. An efficient aftersales service is another important asset in our view.
4. What trends are you seeing in your field with regards to the use of mass spectrometry?
LC-MS/MS has already become the most important technology for TDM (Therapeutic Drug Monitoring) and clinical toxicology worldwide, owing to its versatility, sensitivity, selectivity and compatibility with molecules of very different nature, polarity and mass. The trend now is to automate and optimize sample preparation, so as to take full benefit of the fast analysis capacity of this technology. One of the challenges is to afford enough instruments (or to optimize instrument use) so as to be able to report results for many different compounds, or urgent results for only one or a few patient samples (such as in the case of self-poisoning, for instance). GC-MS is also used, mostly for volatile compounds.
5. What are your expectations for Shimadzu and for MS technology in general in the future?
Multiplexed (or very rapid) sample preparation systems coupled online with LC-MS/MS so as to streamline drug determination, minimize analytical variability and the analytical turnaround time. In the longer term, MS should become part of fully-automated core lab analyzers. However, this does not mean that such integrated mass spectrometers will totally replace standalone instruments (and technical experts), because the continuous evolution of therapeutic drugs, drugs of abuse or pesticides will always require developing and validating new techniques, and running them in reference, centralizing labs. For such use, my expectations are mostly for comprehensive, user-friendly software able to help developers and analysts in situations as different as optimizing the MS conditions for a new set of analytes, automatically checking instrument and method fidelity, or providing help for the analytical validation of long series of clinical analyses.
*The products shown in this article are for research use only and not for use in diagnostic procedures.
For Research Use Only. Not for use in diagnostic procedures.
This page may contain references to products that are not available in your country. Please contact us to check the availability of these products in your country.