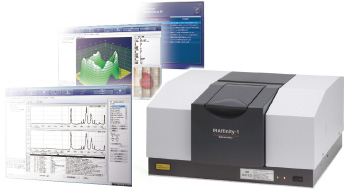 Network-enabled as part of the LabSolutions family, LabSolutions IR is furnised with rich spectral libraries and a high-performance search functio as standard. Labor-saving macros provide for a higher level of automation and improved work efficiency.
Network-Enabled
As a part of the LabSolutions family of control software, LabSolutions IR provides advanced security and user administration features.
Complies with ER/ES regulations including FDA 21 CFR Part 11 and PIC/S.
Centralized management of valuable FTIR data, as well as LC and GC data, on a networked server allows simple control over security and backups.
Terminal Services can be used to control LabSolutions IR from a remote location, even when LabSolutions IR is not installed on the client PC.
Rich Libraries and a High-Performance Search Function
A library of approximately. 12,000 spectra included as standard
The standard library alone has enough data to furnish productive searching.
Advanced library search functions include spectral search, text search, compound search, and peak search.
Employing Shimadzu's unique search algorithms for a high hit rate.
Macro Functions Provide Automation and Labor-Savings
A simple macro function allows the user to execute multiple operations by simply creating a list of operational steps.
Contaminant analysis and identification tests are automatically done through use of macros for a more efficient workflow.
This page may contain references to products that are not available in your country.
Please contact us to check the availability of these products in your country.