iFlagger LabSolutions LCMS Measurement Result Judgment Assistance Software
LabSolutions LCMS Measurement Result Judgment Assistance Software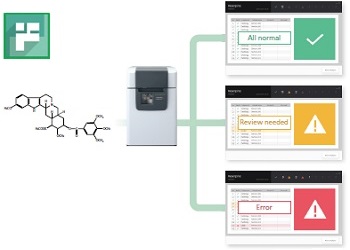 iFlagger for the LCMS-2020 ultra fast liquid chromatograph mass spectrometer uses parameters to assist in determining the presence of a target compound.
By selecting the target compound and selecting user-friendly options and prompts in iFlagger, analyzing and reporting data can be performed automatically.
iFlagger Features
■ iFlagger automatically analyzes samples and processes data.
■ Easy to understand results.
■ Final results can be exported in text or .csv which is convenient for organizing or summarizing data.
■ Analysis parameters can be customized for multiple compounds or single compounds.
iFlagger includes sample parameters for analyzing the presence of compounds.
A variety of parameters can be used in combination to support a wide range of target compounds.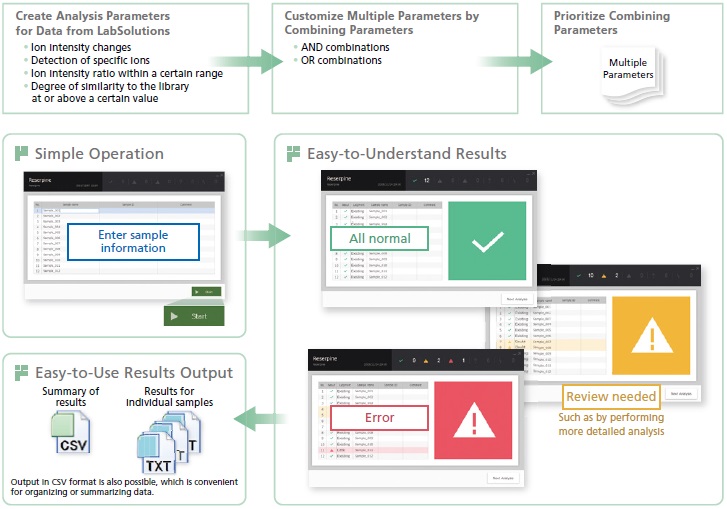 Precautions
LabSolutions LCMS is required for operating iFlagger.
Only qualitative analysis can be made with iFlagger. iFlagger cannot be used for quantitative applications.
User must be proficient in the concepts behind LCMS and LabSolutions software in order to determine analysis parameters.
Please note no warranty, expressed or implied, is provided for the method files or analysis criteria included or for the results obtained.