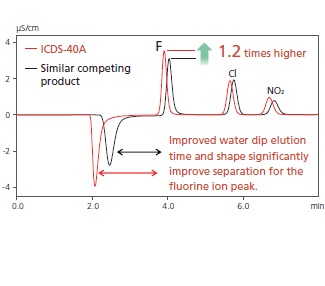 HIC-ESP Anion Chromatograph Equipped with the ICDS™-40A High-Performance Suppressor
In ion chromatography, the suppressor method is widely used in order to reduce background and noise levels during detection. The newly developed ICDS-40A electrodialytic suppressor for anion analysis features (1) a dialytic membrane suppressor with a folded structure that reduces the internal volume and inhibits peak dispersion (2) a continuous regeneration method that shortens the analysis cycle time, and (3) a simple system configuration, based on electrodialytic regeneration, that eliminates the need for a regeneration solution.
The HIC-ESP anion chromatograph equipped with the ICDS-40A suppressor features a slim oven, which reduces the installation width by 40 % to help utilize laboratory space more effectively. This Technical Report bulletin describes the operating principles and features of the ICDS-40A suppressor and the HIC-ESP anion chromatograph.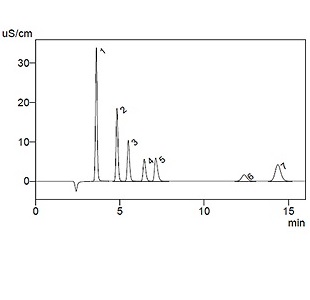 US EPA 300 Method-Compliant Environmental and Water Analysis
Many countries and regions specify standard values for general inorganic anions such as fluoride, chloride, nitrate, nitrite, and sulfate ions in order to minimize the potential health effects of environmental water and drinking water. A suppressor-type ion chromatograph is generally used in quantitation of these inorganic anions. In the United States, Environmental Protection Agency (EPA) Methods 300.0 and 300.1 specify the analysis method for inorganic anions in water by ion chromatography (IC). In anion analysis, conductivity suppressor-type IC enhances sensitivity by replacing the sodium ions in the eluent, which are necessary and indispensable for separation, with hydrogen ion before detections of the target anions. In this article, an EPA 300-compliant quantitative analysis of 7 general inorganic anions in various types of water samples was conducted using an HIC-ESP, which is a new Shimadzu ion chromatograph system equipped with an electrodialysistype suppressor.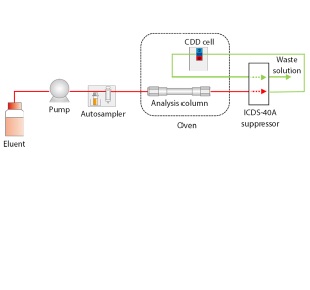 Analysis of Tap Water Using ICDS™-40A Suppressor Unit
The ion chromatograph is an outstanding instrument for high-sensitivity measurement of the ionic contents in solutions. Because of this feature, it is used in many fields, including the environment, chemicals, pharmaceuticals, and foods. In the field of tap water quality analysis, use of the ion chromatograph in measurements of multiple drinking water quality standards items is specified in "Method Determined by the Minister of Health, Labour and Welfare on the Basis of the Ordinance Provisions Relating to Water Quality Standards" (Notification No. 261 issued by the MHLW in 2003, sequential revision). This article introduces an example of anion analysis of tap water based on the above-mentioned Ministerial Notification using a Shimadzu ICDS-40A suppressor unit.
For environmental water analysis
The example below shows an analysis of river water according to the standard method EPA300.0 (Part A) prescribed by the US Environmental Protection Agency (EPA) for environmental water anion analysis.