Long Optical Path Measurement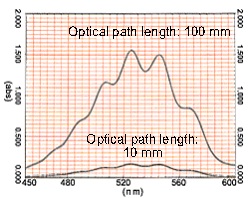 When the concentration of the sample is too low
to be measured using a standard cell with an
optical path length of 10 mm, a cell with a longer
optical path length is used to enable measurement
at the optimum absorption sensitivity. As shown in
the figure, the absorption spectrum of potassium
permanganate becomes clearer when a 100 mm
cell is used instead of a 10 mm cell.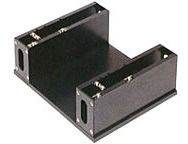 This holder holds 10, 20, 30, 50, 70, and 100 mm
square cells.

For UVmini, UV-1900i/2600i/2700i/3600i Plus series and SolidSpec
* When used on the UVmini series, the sample compartment unit is required. 70 and 100 mm cells cannot be used on the UVmini series
This page may contain references to products that are not available in your country.
Please contact us to check the availability of these products in your country.