Flexural Test Methods for Plastics: ASTM D790 - Features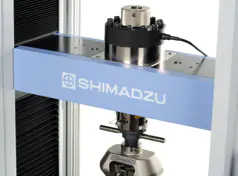 ASTM D790 requires a test force accuracy that meets ASTM E4 Class 1, accuracy within ±1% of the indicated test force, which is equivalent to ISO 7500-1 Class 1 and JIS B 7721 Class 1. All of Shimadzu's test frames, including AG-X plus series, AGS-X series, and EZ-X series, and load cells are compliant with the test force requirements of ASTM D790.
Deflection measurements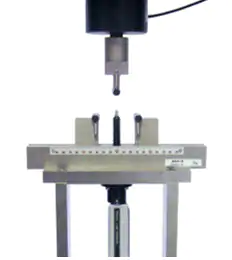 During testing, ASTM D790 requires the use of a deflectometer to measure flexural displacements. Shimadzu's ASTM D790 compliant deflectometers are compatible with AG-X plus series, AGS-X series, and EZ-X series test frames. With the addition of Trapezium X testing software, a comprehensive flexural testing package is created.


Because of the design and placement of the contact deflectometer pushing up against the specimen from below, these deflectometers do not suffer from color issues, as can hinder laser non-contact deflectometers. Other design features include a selectable spring force to make sure the specimen is not affected during testing, and the ability to partially absorb the shock during specimen fracture, lessening the chance of scatter of specimen fragments.
High-rigidity test frames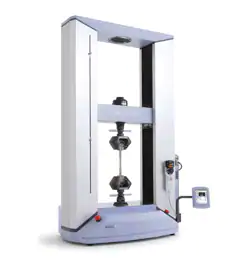 In addition to the specimen deflection during flexural testing, crosshead displacement values can include the penetration of the punch and supports into the specimen and the deflection of the testing machine itself. ASTM D790 specifies deflection during testing to not exceed 1% of the specimen strain. Therefore, to ensure the system deflection is less than 1% of the entire specimen deflection range being measured, a highly accurate deflectometer and highly rigid test frame, like Shimadzu's AG-X plus series, are required.
Wide range of 3-point bend test fixtures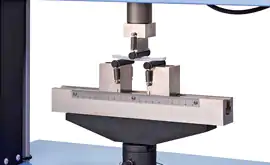 The radius of the punch and support points for the 3-point bend test fixture is specified in ASTM D790.
Different radius values for punches and supports are required for different thickness specimens. Therefore, choosing the optimal test fixture for a given specimen is essential. Shimadzu offers a wide range of 3-point bend test fixtures to meet the requirements of all specimen sizes.