Not for use in diagnostic procedures for human. For research use only animal.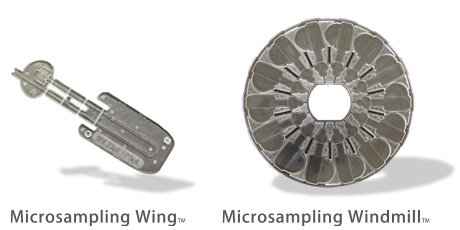 Introduction of a quantitative microsampling device
Microsampling Wing × Microsampling Windmill

The MSW2 series offer tools for easily fractionating a predetermined amount of plasma from a small amount of blood, for nonclinical animal experiments.
The MSW2 is designed based on the principles of the 3Rs (Replacement, Reduction and Refinement) to minimize the burden to animals.
Also, since the entire process, from sampling to fractionation of a predetermined amount of plasma, can be completed with devices only, so human errors are minimized.
The MSW2 consists of the Microsampling Wing blood sampling device, and the Microsampling Windmill, a specialized holder that allows for efficient use of the Microsampling Wing.
Features
Easy microsampling
Procedures from sampling to quantitative fractionation are possible without any high-level training.
Reduce microsampling process
Since Microsampling Wing has a high solvent resistance, re-measurement is not required before
deproteination and other processes subsequent to quantitative fractionation.
Enhanced productivity
A Microsampling Windmill simultaneously centrifuges and puts up to 14 Microsampling Wings.
Products
Sampling by capillary force
EDTA-2Na coated
No necessary seal during centrifugation
Chip(s) which has extact volume can be snapped off with fingertips
■ Microsampling Windmill / Centrifuge Tube
Holds up to 14 Microsampling Wings at a time

The Microsampling Windmill with the microsampling Wings can be centrifuged* and stored

Can be stacked

Alternatively centrifuge tubes for single sample preperation
*A specialized centrifuge rotor is required.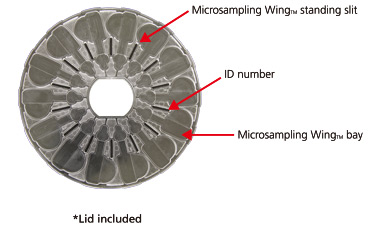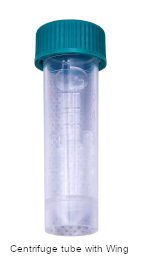 Order Information
Name
Microsampling Wing
P/N
228-77120-41
Type
Udck 235
Content
14 pcs
Material
Olefin polymer
Whole volume
23 μL
Plasma zone volume
*Only for reference and not guaranteed
5.6 μL(2.8 μL+2.8 μL)
Anticoagulant
EDTA-2Na
Size
45 mm×13 mm×2 mm
Method of storage
Room temperature, keep away from direct sunlight. The expiration date of Microsampling Wing is indicated on the package. Not sterilized
Name
Microsampling Windmill
P/N
228-77128-41
Type
Udck
Content
10 pcs
Material
Polycarbonate
The number of devices
14 pcs (maximum loading No.)
Size
φ150 mm×6 mm
Others
・Lid included
・Can be stacked
Method of storage
Room temperature, keep away
from direct sunlight
| | |
| --- | --- |
| Name | Tube for Centrifugation |
| P/N | 228-77133-41 |
| Volume | 5 ml |
| Content | 14 pcs |
*Refer to the instruction manual M815-E012 for instructions on how to use the tube for centrifugation
Technical Report
| No. | Title | Content | PDF |
| --- | --- | --- | --- |
| U815-1001 | The sampling precision | This report shows that the sampling precise by determinating the concentration of a chemical compound spiked in plasma. | Download (280 KB) |
Method of use