In purification using SFC, the target compounds are recovered in high concentrations in an organic solvent, which saves time not only during analysis, but also during post-run processing after preparative tasks are complete. The Nexera UC Prep maximizes fractionation output with its high recovery rates and ability to carry out continuous preparative work that further shortens the user's waiting time.
High recovery rates
In preparative SFC, one factor that results in lower recovery rates is increased scattering of the eluent when the CO2 returns from a supercritical to a gaseous state. The Nexera UC Prep's patented gas-liquid separator, the LotusStream separator, successfully reduces sample dispersion and carryover, while also achieving high recovery rates. These high recovery rates can be obtained regardless of flow rate or modifier concentration, even for volatile compounds such as the fragrance linalool.
Comparison for 1% linalool
| | |
| --- | --- |
| Equipment | Recovery rate |
| Conventional separator | 78.0% |
| LotusStream Separator | 96.7% |
LotusStream separator (patented technology)
Decreases flow rate without increasing the pipe diameter by splitting flow through multiple channels. The CO2 is discharged externally while the liquid travels along the column and drips directly into the collection vessel without dispersing or spattering the eluate.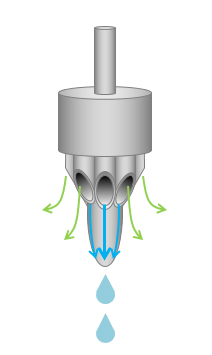 Prep Solution enables a seamless preparative workflow
The dedicated software, Prep Solution, ensures that it is simple to scale up from an analytical to a preparative workflow, and makes it easy to configure parameter settings. It greatly increases the efficiency of preparative workflows.
Easy to understand even for first-time users
The parameter settings in Prep Solution have been kept as concise and intuitive as possible, so that all users can operate the system with minimal training. This also avoids the risk of wasting samples through human error.

A trial analysis, or scouting run, prior to fractionation confirms component peak shapes and retention times. Analysis can be started by simply inputting basic parameters in the three onscreen tabs.

The chromatogram obtained from the single analysis can be displayed in the simulation window, so that the collection start and stop times for each fraction can be selected with just a few mouse clicks. These settings can be applied to methods automatically.

Samples are fractionated based on the user-selected parameters. The fraction range is displayed on the chromatogram, which can be checked in real time.

Parameter settings for fractionation and injection can be adjusted during stacked injection ("on-the-fly" function).
Compact, benchtop design
This space-saving benchtop model includes a carbon dioxide pump that does not require an external chiller (cooling system for cooling system for heat generated when pumping CO2 at high flow rates). In addition, one unit can handle a wide range of flow rates, lowering installation costs.
Benchtop system that can be installed anywhere
Usually a chiller is required to cool the solvent delivery pump when pumping CO2 at high flow rates. However, the Nexera UC Prep features a compressor-type cooling unit, reducing the size of the system and allowing it to be installed anywhere. Its footprint is equivalent to an analytical scale SFC system.

Choose the optimal configuration for your application
Stacked Fraction System:
supports injection volumes up to 20 mL for high flow rates
This system is optimized for large volume fractionation involving repeated injection of samples which may contain several compounds. The FRS-40 unit includes both injector and fraction collector functionality, so that the same unit can be used for repeated sample injections and gram-level preparative work. It supports injection volumes up to 20 mL* and collection of ten fractions. Compatible with flow rates from 10 to 150 mL/min and 10 to 30 mm I.D. columns.
*optional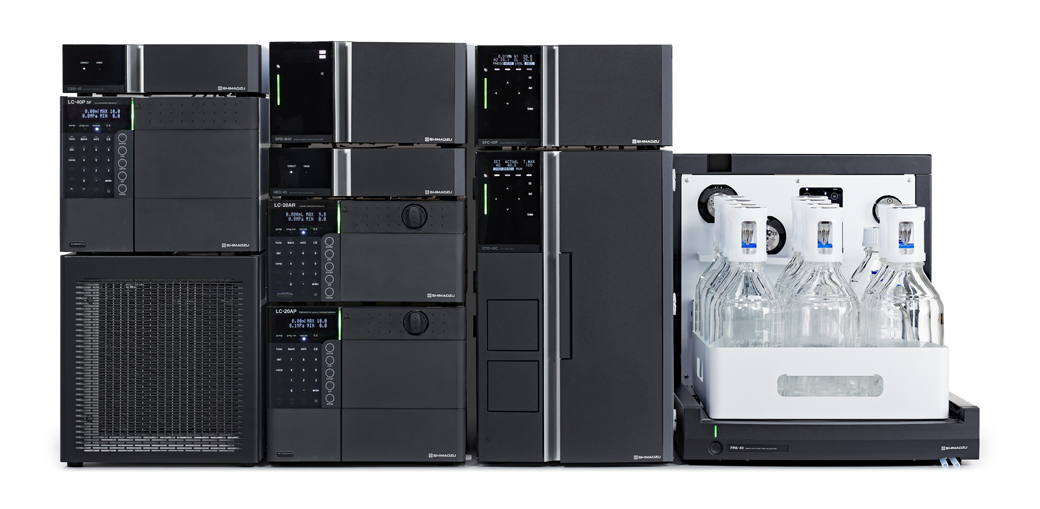 Multi-Fraction System:
for multiple peak fractionation of impurities and natural products
This system is suitable for preparative tasks involving samples with many peaks detected, such as impurities in pharmaceutical compounds. Volumes of up to 2 mL* can be injected using an autosampler that holds up to 162 samples (using 1.5 mL vials). Three rack types can be selected for the FRC-40 SF fraction collector, which can recover up to 540 fractions (using 10 mL vials). With support for flow rates from 10 to 150 mL/min, columns with an internal diameter from 10 to 30 mm can be used.
*optional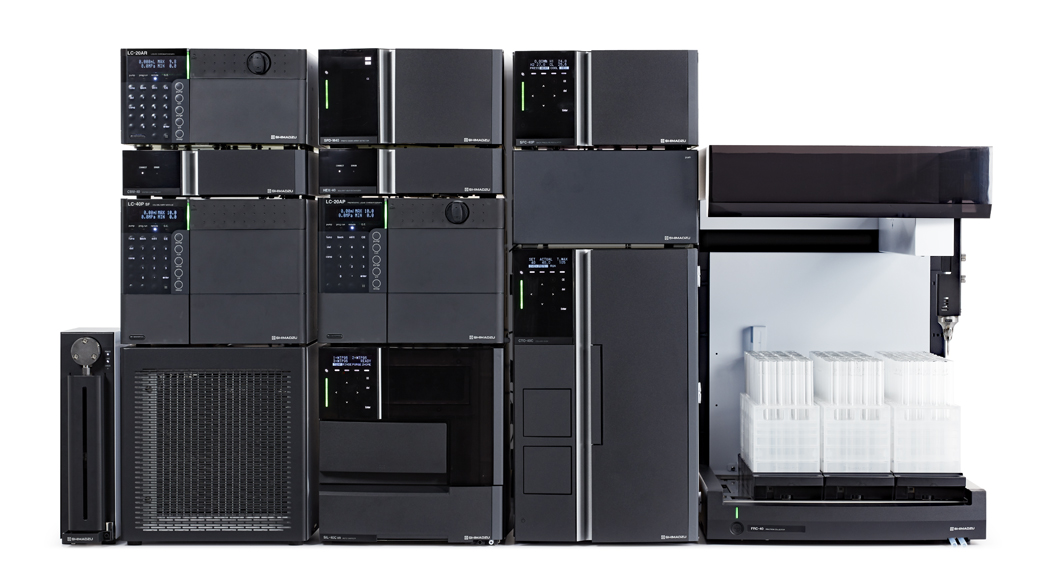 Analytical Fraction System:
analytical flow and fraction collection in one system
This system is intended for analytical scale fractionation only requiring fraction volumes of several mL to recover up to 20 mg of material (used to check synthesis for example). By connecting an FRC-40 SF fraction collector to the Nexera UC system, analytical columns from 2.1 to 4.6mm ID can be run at flow rates up to 5 mL/min for small volume fraction collection.
Key Features
Stacked Fraction System
Multi-Fraction System
Analytical Fraction System
Flow rate range
10.0 - 150.0 mL/min
0.0001 – 5.0 mL/min
Supported columns
I.D.: 10 - 30 mm
Length: up to 250 mm

I.D.: 2.0 - 4.6 mm
Length: up to 250 mm

Injection unit

No. of samples processed: 1

Max. injection volume: 2 mL

(optional: 20 mL)

No. of samples processed:
252 (with 1 mL sample vial plate)
162 (1.5 mL sample vial plate)
84 (4 mL sample vial plate)
36 (10 mL sample vial plate)
72 (microtube plate)
288 (96-well microplate)
1,152 (384-well microplate)
Max. injection volume: 500 μL

(optional: 2 mL)

No. of samples processed:
175 (with 1-mL sample vial plate)
105 (1.5-mL sample vial plate)
50 (4-mL sample vial plate)
192 (96-well microplate)
768 (384-well microplate)
192 (96-well deep-well plate)
768 (384-well deep-well plate)
Max. injection volume: 5 μL

(optional: 20 μL)

Collection

Supported containers: Bottles (screw-top: GL45)
Quantity: Five 100 mL to 2 L
Collection method: Valve switching
(10 collection + 1 waste or 5 collection + 5 waste)

Supported containers: Test tubes
Quantity: 540 10-mL, 20 250-mL, or 12 500-mL test tubes
Test tube I.D.: From 10 mm
Collection method: Open-bed with X-Y arm

Volume recovered per analysis
(approx.)

Up to 1 g
(for 30 mm I.D. column)

Up to 20 mg
(for 4.6 mm I.D. column)

Sample temperature
control range

No temperature control

4 - 45°C
4 - 40°C
Support functions
Dedicated preparative software,
stacked injection,
parameter changing during analysis
Dedicated preparative software,
parameter changing during analysis