Outstanding Scalability
Comprehensive options support diverse research requirements.
Records synchronized video images of the environment and a subject's body movements during measurements.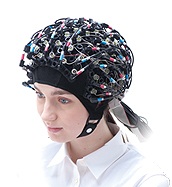 Simultaneous EEG Measurement
This permits simultaneous NIRS and EEG measurements. LABNIRS high-speed sampling is effective for simultaneous EEG measurements. Please consult your Shimadzu representative.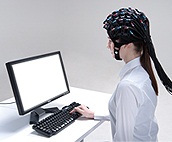 Stimulus presentation system
This allows testing with precise control of the presentation timing of visual and voice stimuli.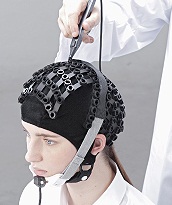 3D Position Measurement System Magnetic
Attach the fibers to measure three-dimensional information. This is an indispensable item to achieve highly reproducible measurements.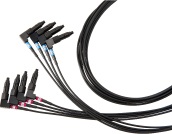 Fibers can extended up to 13 m to suit the application. Effective for measurement synchronization with MRI and for measurements inside a chamber or driving simulator.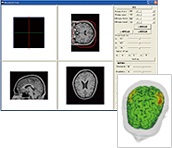 Map images based on 3D information can be displayed over individual MRI images. Using a whole-head FLASH holder permits seamless mapping of the entire brain.
The number of the channels can be increased depending on your purpose.
The channels can be added in field by research expansion and available budget. Initial investment can be held down and upgrading by step is possible without returning the instrument to the factory.
Customization of the system with 4 sets (10 channels) to 40 sets (142 channels) is available.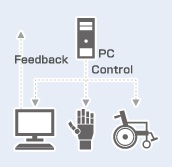 Real-Time Data Transfer System
This supports biofeedback with the subject and brain-machine interface (BMI) to control external devices by transferring measured data to another PC in real time. Please consult your Shimadzu representative.
This page may contain references to products that are not available in your country.
Please contact us to check the availability of these products in your country.