Striving for the Ultimate in Accuracy and Easy Operability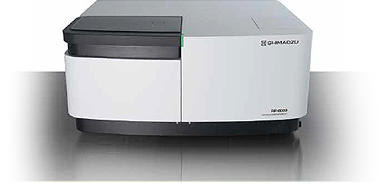 By combining new technologies with those cultivated over Shimadzu's long history, the Shimadzu spectrofluorophotometer has been reborn as the RF-6000. Combined with new LabSolutions RF software, designed for unrivaled measurement accuracy and easy operation, the RF-6000 offers the ultimate performance for a diverse range of customers' measurement needs.
Wide Variety of Spectral Techniques
Enhanced sensitivity and dynamic range enable fluorescence as well as bioluminescence, chemiluminescence, and electro-luminescence measurements.
High-speed 3D scanning enables rapid acquisition of 3D spectra.
Spectral-Corrected Excitation and Emission spectra can be scanned.
Fluorescence quantum yield and Fluorescence quantum efficiency measurements are available.
High Sensitivity, High Stability and High Speed
Highest level SNR in its class: 1,000 or more (RMS) /350 or more (P-P)
High-speed scanning of 60,000 nm/min minimizes scan time.
2,000 hour long life Xe lamp.
Extended range PMT offers scan wavelength range to 900nm.
Excellent Usability
Easy-to-use LabSolutions RF software simplifies analysis.
Validation routines included.
Status bar in LabSolutions RF indicates lamp and accessory status.
Large sample compartment for all analytical needs.
Wide Variety of Spectral Techniques
Supports Applications in a Wide Variety of Fields
For Research Use Only. Not for use in diagnostic procedures.

This page may contain references to products that are not available in your country.
Please contact us to check the availability of these products in your country.