Syringes for Manual Injection
Syringes for Liquid Injection
Syringes with Fixed Needle
Needle Length: 50 mm
Needle Tip: Bevel


Standard recommendation:
670-12552-01: 10 µl syringe with metal plunger for standard applications
221-75170-01: 10 µl syringe with PTFE tipped plunger for gas and viscous samples, minimized plunger bending
Specifications & Ordering Information
P/N

Syringe Volume

Needle
Gauge
Replacement
Plunger P/N

221-75170

5 µl

-

26

-

670-12552-01

10 µl

-

26

-

221-75170-01

10 µl

✓

26

221-75170-02

670-12510-31

25 µl

-

25

-

221-75171

25 µl

✓

25

221-75171-01

670-12510-36

50 µl

-

25

-

221-75172

50 µl

✓

25

221-75172-03

670-12510-18

100 µl

-

25

-

221-75172-01

100 µl

✓

25

221-75172-04

670-12510-19

250 µl

-

25

-

221-75172-02

250 µl

✓

25

221-75172-05

670-12510-20

500 µl

-

25

-
Syringes with Removable Needle
Needle Length: 50 mm
Needle Tip: Bevel


Standard recommendation:
670-12553-21: 10 µL syringe with PTFE tipped plunger for gas and viscous samples, minimized plunger bending
Specifications & Ordering Information
P/N

Syringe Volume

Needle
Gauge
Replacement
Plunger P/N
Replacement
Needle P/N

670-12553-21

10 µl

✓

26

670-12553-33

670-12510-95

670-12510-74

25 µl

-

25

-

670-12510-96






670-12510-75

50 µl

-

25

-

670-12510-76

100 µl

-

25

-

670-12510-77

250 µl

-

25

-

670-12510-78

500 µl

-

25

-
Syringes for Gas Analysis
Syringes with Removable Needle
(screw type)
The needle is 30 mm long and is of a screw-in type, which ensures an easy exchange.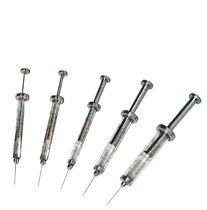 Specifications & Ordering Information
P/N

Syringe Volume

Replacement
Needle P/N

670-12504-28

250 µl
670-12504-85
(5 pcs.)

670-12504-29

500 µl

670-12504-30

1 mL

670-12504-31

2.5 mL

670-12504-32

5 mL

670-12504-33

10 mL
Syringes with Exchangeable Needle (Luer Lock Type)
The Luer Lock syringes can be individually assembled to match specific needs. A syringe body, a needle and a syringe valve are needed for a complete syringe.

Syringe Body Specifications & Ordering Information
P/N

Syringe Volume

Replacement
Plunger P/N

221-54778-01

1 mL

✓

221-54778-11

221-54778-02

5 mL

✓

221-54778-12

221-54778-03

10 mL

✓

221-54778-13

221-54778-04

25 mL

✓

221-54778-14

221-54778-05

50 mL

✓

221-54778-15

221-54778-06

100 mL

✓

221-54778-16
Luer Lock Needle
Needle Length: 50 mm
Needle Tip: Bevel


Needle Specifications & Ordering Information
| P/N | | Qty |
| --- | --- | --- |
| 221-54778-51 | 23 | 5 |
| 221-54778-52 | 19 | 5 |
| 221-54778-54 | 14 | 5 |
Syringe Valve (Luer Lock Type)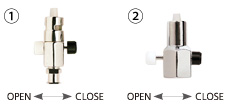 Valve Specifications & Ordering Information
| P/N | Picture | For Syringes with | |
| --- | --- | --- | --- |
| 221-54778-49 | ① | 5 mL to 2 L | Push button valve for Luer Lock needle |
| 221-54778-50 | ② | 50 µl to 2 L | Push button valve for Luer Lock needle and tip syringe |