System Configuration can Evolve with Your Needs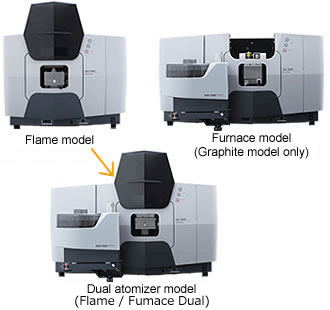 The AA-7000 Series can be upgraded by adding units to allow the system to handle the analysis targets, and it supports a wide range of analysis applications.
Application Field
Environment
Seawater, river water, effluent, sludge, air-borne dust
Metals, Semiconductors, Ceramics
Metals, minerals, glass, ceramics, IC chips
Petroleum, Chemicals, Polymers
Petroleum, oil, catalysts, chemical products, biodiesel
Medical, Biology, Pharmaceuticals
Blood, animals, plants, drugs, food products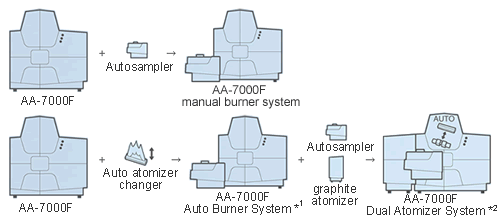 *1 Auto burner system
Burner height can be controlled with a PC by using the flame model AA-7000F and the auto atomizer changer AAC.
*2 Dual atomizer system
An integral burner and a furnace are installed in the combustion chamber. Bothersome exchange of the atomizer part and the removal of pipes and wiring are not required. A newly developed drive mechanism shortens flame / furnace measurement switching time to 1/2 compared with our conventional products.
Upgrade from furnace model

This page may contain references to products that are not available in your country.
Please contact us to check the availability of these products in your country.