TOC History – The Global Standard for TOC Analyzers
The successor of the TOC-V series laboratory analyzer, is the TOC-L Series. Designed according to the motto "Keep good things, but advance consequently", proven functions were carried over from both predecessor laboratory and online TOC instruments.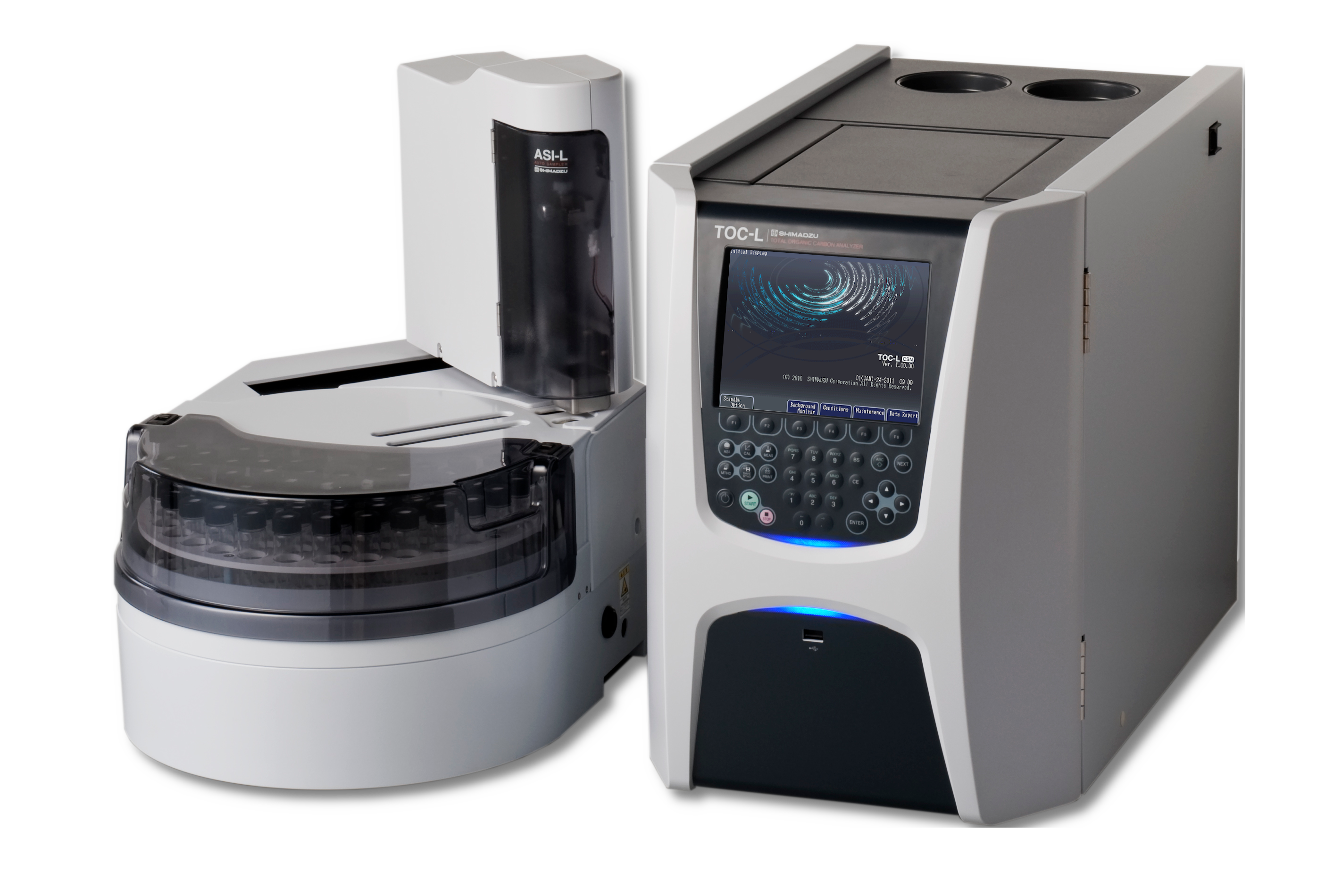 TOC-L employs the 680°C high temperature catalytic oxidation method for full recovery rate of organic compounds at temperatures that make salt easy to handle. The "ISP-Module". Furthermore, it allows dilution of both samples and calibration standard of up to 50 times. This helps to reduce adverse matrix effect in sample measurement and makes multi-point calibration as easy as it gets. The exterior design of the TOC-L has a much more aesthetic touch than any of its predecessors, which were designed with a rather simple look. A large LED bar allows easy control of the instrument status even from a distance. TOC-L was the first unit to carry Shimadzu's "Eco Label", as energy consumption has been reduced by a massive 43% compared to its predecessor TOC-V.
All in all, the system became highly modular. If a customer's analytical focus changes, the system can also be easily retrofitted to meet the new requirements. This creates investment security and is significantly more sustainable than purchasing a completely new TOC analyzer. Among the newly added modules is the kit for high salt loads, which has proven itself in Shimadzu's online TOC. In application where only a small amount of sample is available, the instrument can be equipped with a small syringe kit, so that 5 ml of sample is sufficient for 3 injections.
The latest online TOC analyzer TOC-4200 is the successor of the TOC-4110 series. First and foremost, the previous operating concept was completely overhauled and redeveloped from scratch. Operators have access to all required functions and clear information via a color touchscreen, without having to study long manuals beforehand. Functions that are particularly important for continuous operation, such as automatic control sample measurements and calibrations, can be easily scheduled and automatically executed via a built-in calendar function. In addition, the TOC-4200 offers the possibility to easily insert the analysis of grab samples into the analysis cycle. The possible range of applications has been extended by improving the measurement specifications. For low-concentration samples, such as boiler feed water or pure water, a high-sensitivity kit was released to allow reliable analysis even in the ppb range. The maximum concentration range was extended to 50.000 mg/L. These are concentrations that can occur on de-icing pads at airports, or in some process waters. Each TOC-4200 can be equipped or retrofitted for any application. So, if a task changes, there is no need to purchase a new instrument, the existing instrument can simply be reconfigured.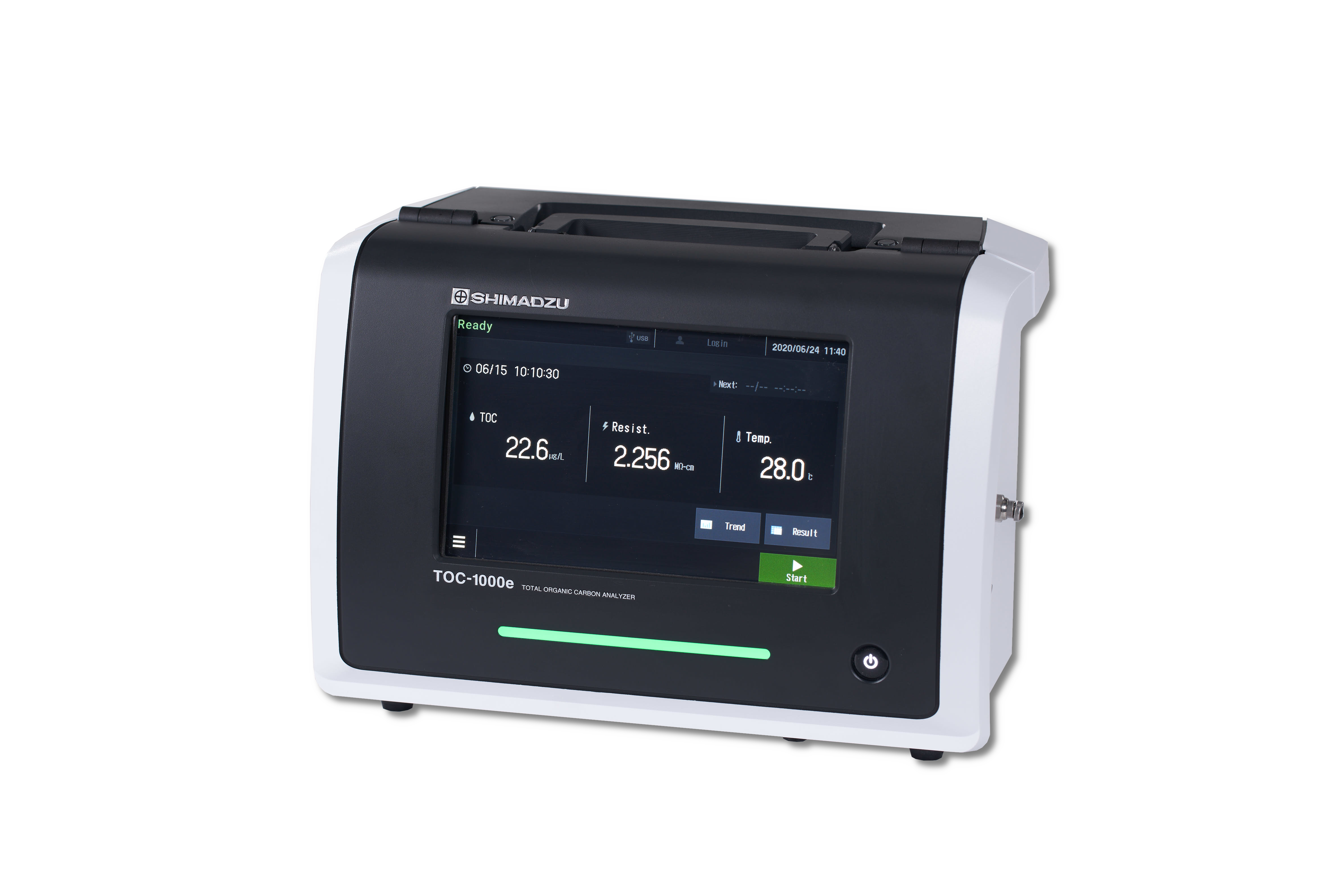 A world premiere in technology, in the smallest and lightest housing on the market - Shimadzu released the TOC-1000e (eTOC) in 2020. It specializes in online analysis of ultra-pure water applications, with its detection limit of 0.1 µg/L and fast oxidation technology. The eTOC measures TOC content as well as electrical conductivity of samples and is the first system in the world to use an environmentally friendly mercury-free excimer lamp. Compared to conventional lamps, it emits higher-energy light at a wavelength of 172 nm to oxidize organic components. Featuring "Active Path" technology, it irradiates the sample optimally with UV light. The sample flow is guided directly through the inside of the excimer lamp, which prevents the formation of ozone in air pockets, promotes rinsing of impurities and increases long-term stability. Despite its small dimensions, the TOC-1000e offers a large clear touchscreen that allows easy, intuitive operation.
Maintenance and calibration are scheduled annually., while calibration and validation are carried out on the instrument installation site. Certified standard solutions are available for this purpose, as well as for system suitability test kits (SST). The eTOC series systems are compatible with the regulations of various pharmacopoeiae.