TOC-L Options & Accessories
Increased functionality and convenience


Sophisticated options and accessories make TOC-L's functions adaptable
to a wide range of applicational needs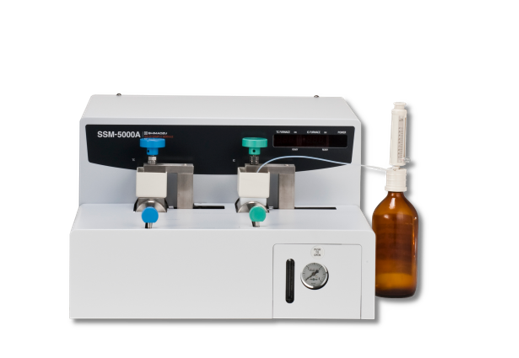 SSM-5000A Solid Sampling Module


Allows analysis of solid samples, like soil, sludge or swabs




Kit for high salt contents


Further enhances TOC-L's capabilities for continuous analysis of samples with high salt content, incl. sea water and even brine, while reducing maintenance effort.




Special accessories


Solutions for small sample amounts, standard-compliant POC analysis or using compressed air as carrier gas
Autosamplers
ASI-L High-Throughput Autosampler
Designed for automated analysis of a large amount of sample vials, the ASI-L is equipped with a precise X-Y-axis needle sampling mechanism, as well as an automatic rinse port to avoid cross contamination. The encapsulated sample compartment allows convenient addition of samples during the analysis run, while effectively isolating sensitive low concentration samples from the surrounding atmosphere.
Select from three vial sizes with different capacities to suit your application:
9 mL vials – 93 positions
24 mL vials – 93 positions
40 mL vials – 68 positions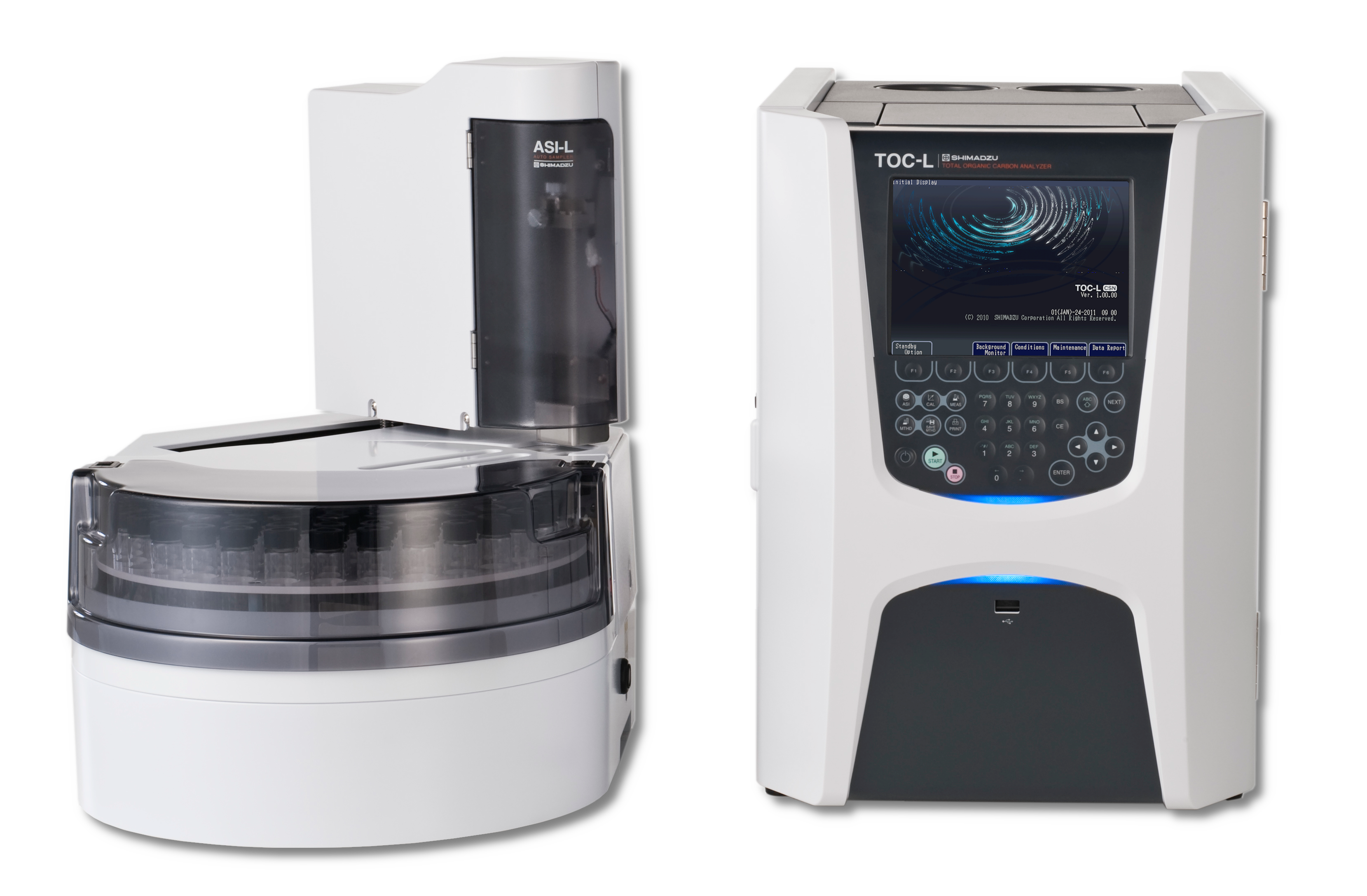 Optional magnetic stirrers provide complete sample homogeneity. The ASI-L will not only continually stir the sample being measured, but will also stir the sample in the following position, thus allowing proper handling of sample containing suspended solids.
An external sparge kit allows overlapping NPOC sample preparation in the autosampler.
Shimadzu offers several different types of sample vials, from cost effective EPA vials, to certified pre-cleaned vials for low range TOC analysis.
OCT-L 8-Port Autosampler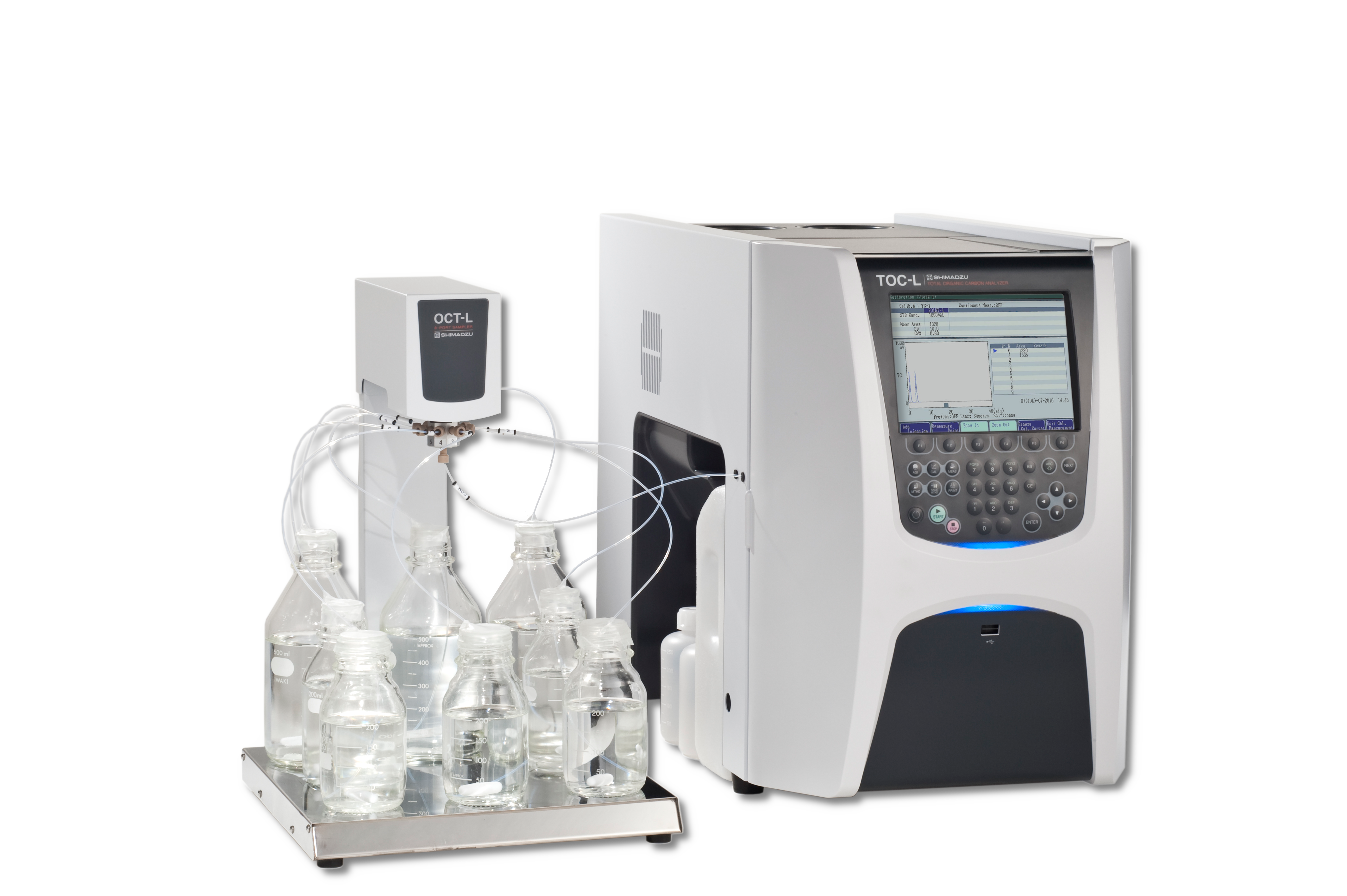 The OCT-L is an economic alternative to the ASI-L. The OCT-L allows automatic sampling from up to 8 bottles of any size. No need to fill liquid from their original sampling bottles to vials – just insert one of eight OCT-L tubes and analyse.
Sometimes, less is more.
The consistent use of inert material for the sample flow path, makes OCT-L a great choice for the analysis of TOC in ultra-pure water, as well as in aggressive chemicals. A maximum of 2 OCT-L units can be connected to a TOC-L for a maximum of 16 sampling positions.
Total Nitrogen bound (TNb) is a sum parameter commonly determined in conjunction with TOC, representing the sum of organic and inorganic nitrogen. Shimadzu's TNM-L module for the TOC-L series, allows the simultaneous analysis of both parameters in one step. The TNM-L utilizes catalytic thermal combustion in combination with chemiluminescence detection, for compliant measurement according to EN 12260 and ISO 20236.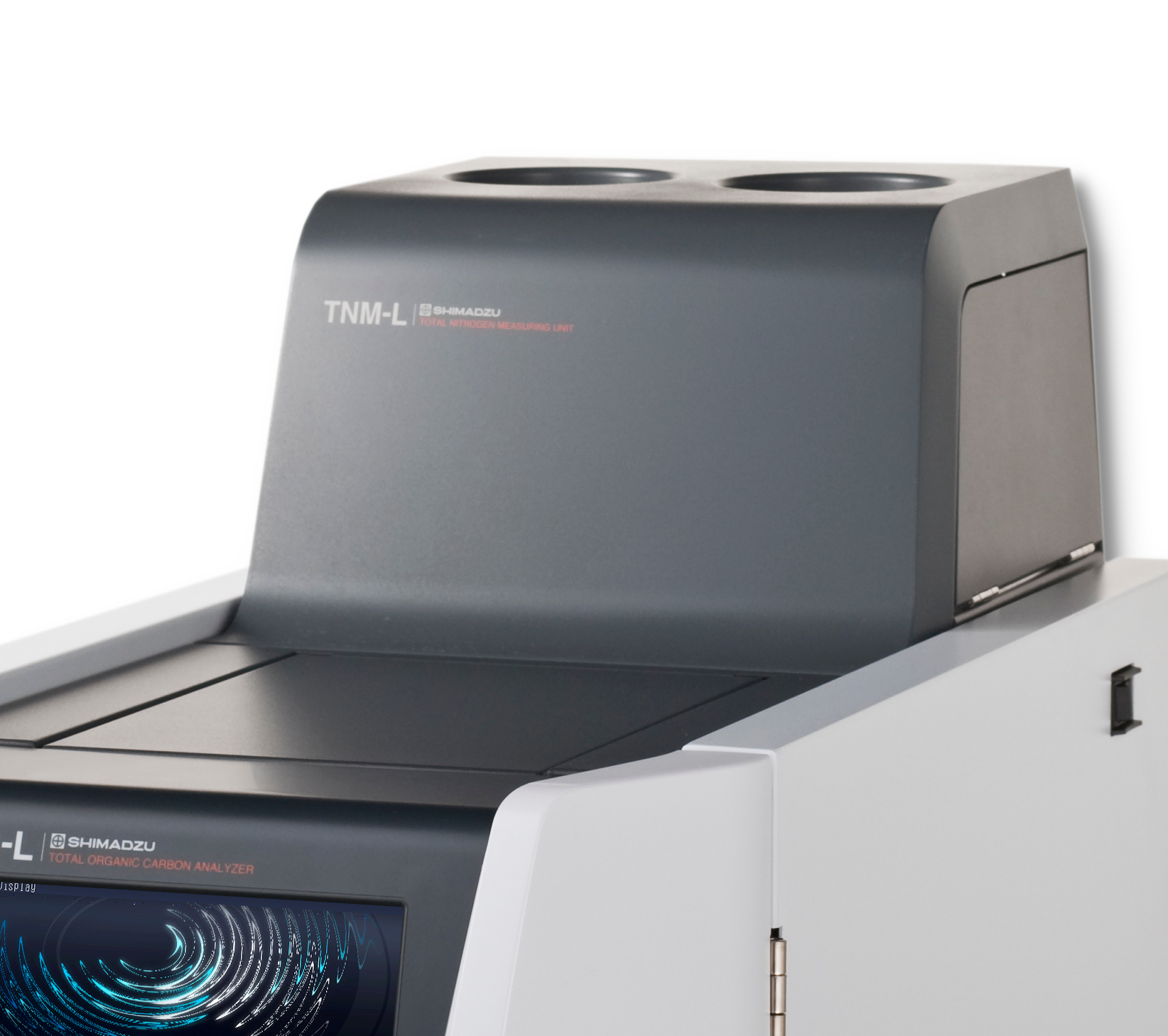 More than just an additional detector
- Inbuilt gas conditioning and monitoring unit
- Economic – uses compressed air to generate ozone internally
- No additional bench space required
- Can be retrofitted at a later time
Full standard compliance (e.g. EN 12260 and ISO 20236)
- Catalytic combustion at 720°C with chemiluminescence detection
- Creation of calibration curves by real dilutions
- No compromises in performance – wide range 5 µg/L* - 10.000 mg/L

(* using TOC-L CxH)
Combining the SSM-5000A with a TOC-L series analyser permits analysis not only of aqueous sample, but also solid samples including soils, sludges, and sediments. The SSM-5000A is also ideal when conducting cleaning validation using the swab method. Carbon measurement of insoluble material and attached residues is made easy.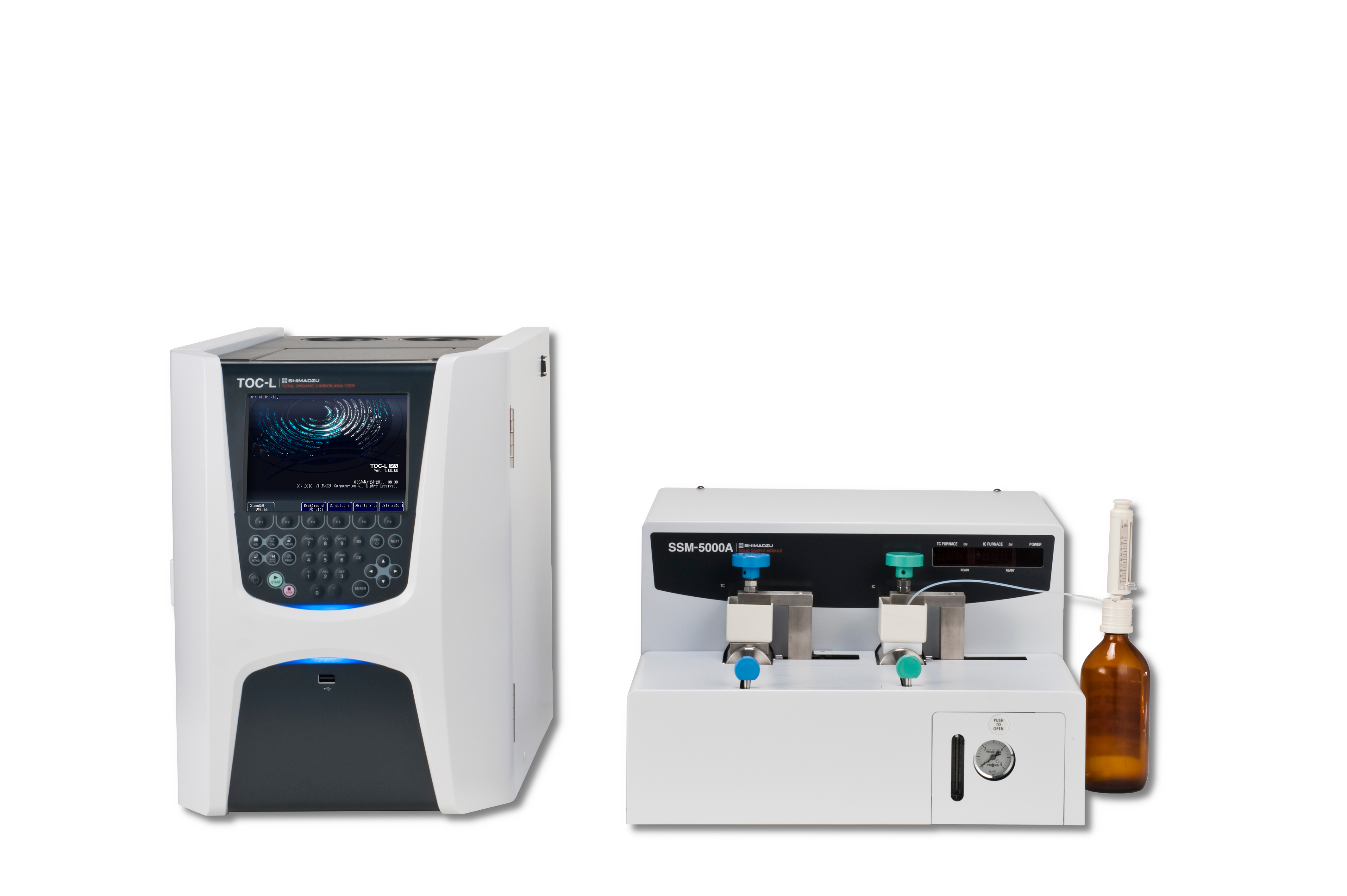 Maximum flexibility
- TOC determination in solids, e.g. according to EN 15936
- Inbuilt IC-analysis and acidification port
- Easily switch from solid to liquid mode without rebuilding the system
- Measurement range down to 0,1 mgC (optional: 20 µgC)
- Swab sample analysis solutions for cleaning validation
Decreased cost per sample
Kit for high salt content
Salt content present in a wide range of water samples often results in high cost for TOC analysis. Salt injected at furnace temperatures exceeding the melting point of salt (e.g. NaCl 801°C), does melt in the combustion chamber, increasing the chance of blockages and catalyst damage. As a result frequent maintenance is necessary. Shimadzu designed both high salt sample combustion tube and 680°C method as a powerful countermeasure.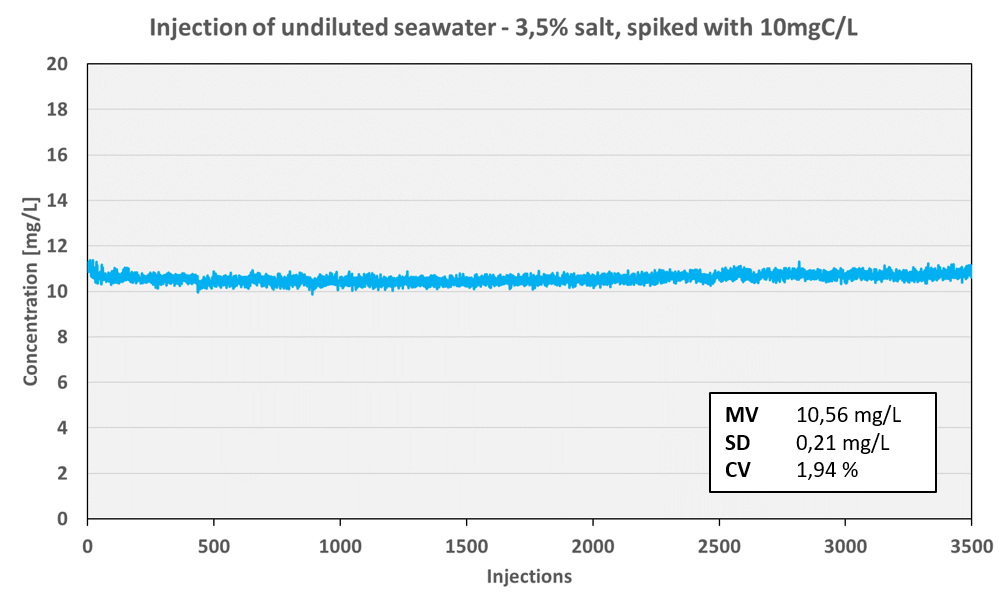 Mastering salt in TOC analysis
- Up to 30% and more reduction in maintenance cost compared to conventional combustion systems
- Using Shimadzu's 680°C catalytic combustion salts do not melt,
but precipitate
- Optimized geometry enables discharge of salt particles with condensate
- No costly and maintenance-intensive catalyst guards or salt
traps necessary
- Allows the analysis of even high concentrated salt solutions like brine (e.g. 28% salt)
Prepared for every circumstance
TOC-L Special Accessories
The devil is often in the detail and this certainly proves true with TOC analysis. Shimadzu offers a number of additional options to help fine-tune applications. Options can be retro fitted, so as analytical needs change, the TOC-L will continue to provide to be the best solution.
Gas scrubbers and filters

Combustion does not only generate CO2 and water vapor, but also corrosive gases, that could potentially harm the instrument hardware if not treated properly, or even worse, its operators. Scrubbers and filters are available, facilitating the analysis of high-Sulphur samples, or even concentrated hydrochloric acid.
POC measurement kit

Allows the direct determination of Purgeable Organic Carbon (POC) in aqueous samples, as well as TOC measurement by addition method (TOC = NPOC + POC).
Small sample volume kit

In cases with little available sample volume, every milliliter used by the instrument counts. The TOC-L Small Sample Volume Kit reduces the amount of necessary volume by up to 35% by modifying the integrated sample pretreatment system.
Save cost – use compressed air as carrier gas

High-purity synthetic air is preferred for TOC analysis, especially for very low ranges. However, often for the analysis of higher concentrated samples, such as waste water, the cost of synthetic air is not justifiable. The carrier gas purification kit for TOC-L was designed for such cases: it removes CO2 and other impurities internally and thus enables supplying the analyser with cost efficient pressurized air, such as instrumentation or compressor air.
Large particle contents

The TOC-L sample flow line has an internal diameter of 0,5 mm, which is suitable for the analysis of most particle-containing samples, such as waste water. In case larger particles or aggregates are expected, the flow line diameter can be extended to 0,8 mm using the TOC-L suspended sample kit.