UF-MRM
■ High-Sensitivity & High-Speed MRM at 555 ch/sec
Detect Target Compounds at Trace-Level Concentrations Simultaneous Analysis of 29 Pesticides for Water Quality Analysis
The LCMS-8050 is capable of simultaneously acquiring 555 MRM transitions per second while maintaining accuracy and precision. Sufficient data points can be collected for quantitation ions, reference ions, and internal standard ions even in chromatographic regions with unresolved peaks. The high sensitivity of the LCMS-8050 allows for trace-level analysis, such as pesticides in drinking water, without the need for sample pre-concentration. This high sensitivity is maintained even when monitoring numerous MRM channels.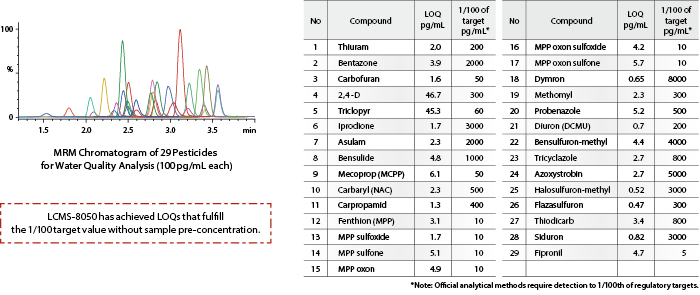 This page may contain references to products that are not available in your country.
Please contact us to check the availability of these products in your country.