DPiMS™-8060 Method Package for Rapid Toxicology Screening Ver.2

Simple pretreatment for blood and urine samples in only 2 minutes
With the DPiMS-8060, time-consuming pretreatment steps associated with forensic samples are almost completely eliminated. Begin analysis after only simple dilution and centrifugation steps. The DPiMS-8060 is therefore extremely well-suited for mass analysis via rapid screening.
Screening of numerous toxic substances in less than 5 minutes
This method package provides MRM simultaneous analysis methods for approx. 64 compounds (blood samples) or 77 compounds (urine samples) often seen in forensic cases including illicit drugs, narcotics, psychotropics and medical drugs.
Ready-to-use method
When using this method package with the DPiMS-8060 for mass analysis, it is no longer necessary to spend time and effort considering analysis conditions or optimizing MS parameters for each compound before starting the analysis. The simultaneous analysis of several compounds can be carried out much more efficiently.
Support for easy quantitation from pretreatment to data processing
For each compound in the method package, calibration curve information for internal standards is listed, enabling easy quantitation post-analysis.
Easily change units for LC-MS/MS analysis
DPiMS-8060 is an optional ionization kit for the LCMS-8045/8050/8060. It is simple for users to change units to an ESI unit for LC-MS/MS analysis. For example, change between interfaces to quickly check whether a compound has been detected with DPiMS or carry out LC-MS/MS analysis including detailed quantitation.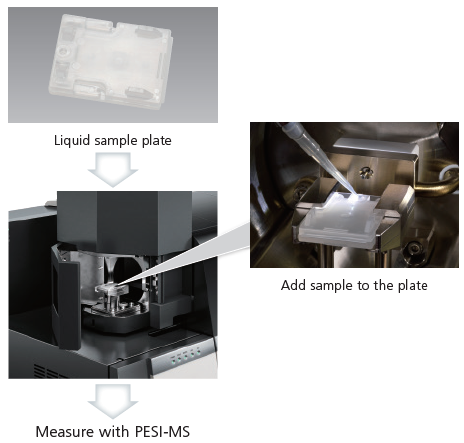 Software that prioritizes simplicity
PESI MS Solution is dedicated software which allows the user to begin analysis by simply selecting the method, setting the sample in place, and pressing the start button. Once analysis is complete, it is easy to create a report file showing the presence or absence of the target compounds.

Compounds in the database
For blood samples (shown in red): 64 compounds
For urine samples (shown in blue): 77 compounds
Figures shown in black are for both blood and urine samples.
Abused drugs etc.
Narcotics, psychotropics etc.
Antipsychotics etc.

Acetyl Fentanyl

Cocaine

Dihydrocodeine

Diphenidine

Ketamine

MDA

MDMA

Methamphetamine

Morphine

Alprazolam

Bromazepam

Brotizolam

Chlordiazepoxide

Clobazam

Clotiazepam

Cloxazolam

Diazepam

Desmethyldiazepam

Diphenhydramine

Estazolam

Etizolam

Fludiazepam

Flunitrazepam

Flurazepam

Haloxazolam
Lormetazepam
Medazepam

Oxazepam

Pemoline

Prazepam
Quazepam

Temazepam

Triazolam

Zolpidem

Amitriptyline

Amoxapine

Blonanserin

Carpipramine

Chlorpromazine

Clocapramine

Clomipramine

Clozapine

Desipramine

Dosulepin

Duloxetine

Escitalopram

Fluvoxamine

Imipramine
Lamotrigine
Levomepromazine
Maprotiline
Mianserin

Milnacipran

Mirtazapine

Nortriptyline

Paroxetine
Perospirone
Perphenazine
Pimozide
Promethazine
Propericiazine
Quetiapine
Risperidone

Sertraline

Sulpiride

Tandospirone

Trazodone

Zotepine
Other compounds
Metabolites

Atropine
Bupivacaine
Carbamazepine

Colchicine

Lidocaine
Sildenafill
Tofisopam

Verdenafil

Desmethylclotiazepam
p-hydroxymethamphetamine
7-Aminoflunitrazepam
7-Aminonitrazepam
Cautions
Concentrations calculated with this method package are approximate values, and may differ significantly from true values depending on the samples used and the condition of the equipment. Such values should not form the basis for legal or medical decisions. In order to obtain accurate quantitative values, a quantitative method using calibration curves from standard samples is required.
Shimadzu provides no guarantee with regards to the accuracy of information included in the database or the usefulness of information obtained using the database.
Appropriate quality control tests should be carried out using standard samples to confirm qualitative information obtained with this method package.
DPiMS is a trademark of Shimadzu Corporation.