Visit us at our stand n°36
As a world leader in Analytical instrument manufacturing, Shimadzu has committed to protect the world's most vital resources by providing instruments, accessories and software that can not only meet but also exceed your productivity, accuracy, and regulatory requirements. With a strong concern for improving and protecting the environment, Shimadzu has been specializing in the development of instruments for environmental analysis for decades. In that scope, we are always pleased to support SETAC events in different areas every year and participate to the new hybrid SETAC-2022 for Europe. Stop by our booth to discover all our analytical solutions!
Shimadzu corporate actions: Learn more about Shimadzu's Offer of Solutions for the Environmental Measurement and Alternative Energy Fields here
Product Lineup
Webcasts on demand
Emerging Water Quality Issues: Are you ready to measure PFAS in your water?
Click here to view its details: here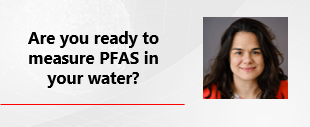 Speaker: Dr. Ruth Marfil-Vega


Environmental Marketing Manager Shimadzu Scientific Instruments
Dr. Ruth Marfil-Vega recently joined Shimadzu as the Environmental Marketing Manager. Ruth brings over fifteen years of experience leading research to solve water quality issues. She established and led the team focused on Emerging Contaminants at American Water (the largest publicly traded water utility in the US), managing and overseeing projects focused on the assessment and removal of regulated and unregulated contaminants (e.g. PFAS, nitrosamines, DBPs, cyanotoxins, taste and odor compounds, pharmaceuticals) by conventional and advanced treatment technologies in drinking water, wastewater, and water reuse. She was an ORISE postdoctoral fellow at the US EPA Office of Research and Development. She received a PhD in Environmental Science from the University of Cincinnati and a BSc in Chemistry from the University of Valladolid (Spain.)
Webinar Videos
Hot topics
Microplastics: Analytical and Measuring Instruments for Microplastics. Click here to view more details here
Issues in the Analysis of Microplastics. Download the flyer here
PFAS: Analysis of Per- and Polyfluoroalkyl Substances (PFAS). Click here to view more details here
Pyrolysis-GCMS: A versatile tool for the analysis of polymers, insoluble samples and a broad range of compounds, which cannot be introduced into GC directly.
Click here to view more details here
Shimadzu's environmental solutions