Automated Pretreatment Enhances Reliability of Data
Automated Pretreatment Enhances Reliability of Data
The AOC-6000 automatic syringe exchange (10μ L to 1,000 μL) and mixing functions automate the creation of dilution series of standard samples and addition of internal standard substances. The automation of complicated sample preparation enabes quantitation with the highest reliability
Two method files are provided to facilitate sample preparation: one for automatic addition of internal standard, and the other for automatic creation of calibration curve samples. These method files can be used immediately just by changing some parameters.
Automatic Dilution of Standard Sample
Once the standard sample and empty vials are set up on the sample rack, all you need to do is select the dilution factor with a method file, and then press the start button; the standard sample will be diluted at the specified rate. In addition to internal standard substances, other protectants, such as polyethylene glycol, which is effective for the matrix effect, a problem when analyzing residual pesticides in food products, are automatically added.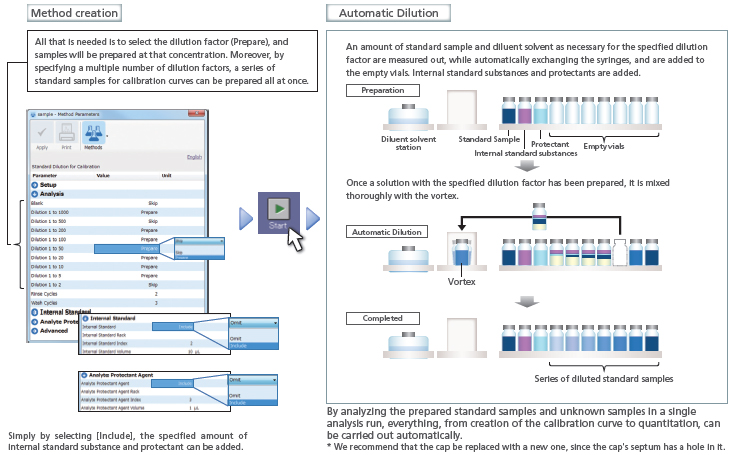 Automatic Addition of Internal Standard Substances
Internal standard substances are added automatically simply by setting up the vials in the sample rack, and then pressing the start button. This is ideal for quantitative analyses using internal standard methods for environmental, food, and other analyses.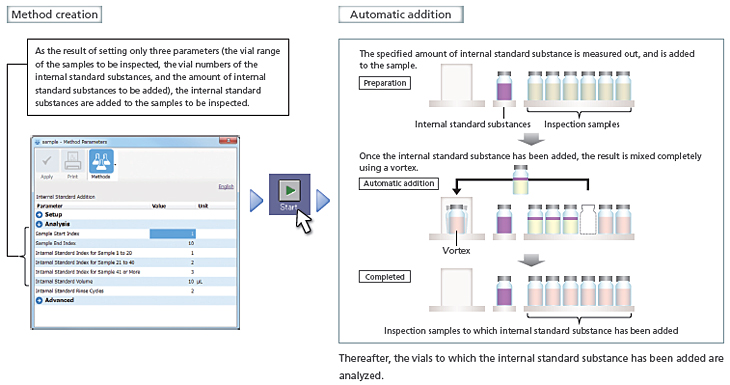 Quantitation of Unknown Samples—Automated Pretreatment Enhances Reliability of Data
Thanks to automatic dilution of standard samples, and automatic addition of internal standard substances, the discrepancies or procedural mistakes that can appear due to manual pretreatment are no longer a problem. Quantitation with the highest reliability is now made possible.
Quantitative Analysis of Residual Pesticides in Foods Using Internal Standard Method
Simply set up the empty vials, standard samples, internal standard substances, protectants, and samples to be inspected on the sample rack, then start the batch table. The quantitation of residual pesticides will be performed automatically.

For Research Use Only. Not for use in diagnostic procedures.
This page may contain references to products that are not available in your country.
Please contact us to check the availability of these products in your country.