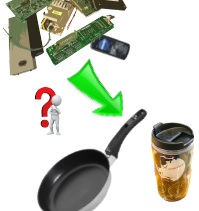 Black polymeric food-contact material
"Multi-elemental analysis of relevant elements and macromolecular contaminants in black polymeric food-contact material and it's origin"
Black polymeric food-contact articles (FCA) sold on the European market were measured for their bromine content followed by the identification of presented brominated flame retardants (BFRs) by use of X-ray fluorescence spectrometry (EDX-7000) and thermal desorption gas chromatography coupled with mass spectrometry (thermal desorption GC-MS).

In order to confirm the possibility that recycled fractions from the Waste Electrical and Electronic Equipment (WEEE) stream were entering the European market in the form of black polymeric articles, elemental analysis was performed by use of inductively coupled plasma optical emission spectroscopy (ICPE-9800 Series) for the detection of WEEE relevant elements. In most of the BFR positive samples typical elements used in electronic equipment (As, Cd, Cr, Cu, Fe, Hg, Ni, Pb, Sb and Zn) were presented either at trace level or at elevated concentrations.
Poster "Black Polymeric Food-Contact Materials..."
A poster presented at EWCPS 2015, Münster, discribes also the measurement of rare earth elements (REEs) and confirms additionally the suggested WEEE root of contamination. REEs like Ce, Dy, La, Nd, Pr and Y were detected in 4 of the 7 BFR positive samples. The polymer matrixes were identified by combining attenuated total reflection- Fourier transform infrared spectroscopy (ATR-FTIR) with pyrolysis GC-MS enabling to detect impurities from foreign polymer fractions.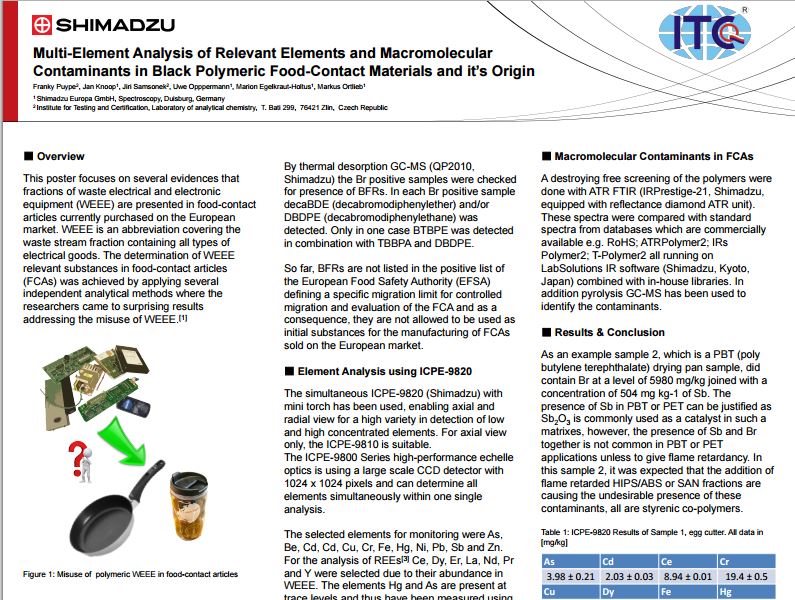 Article "Traces of WEEE found in kitchen utensils"
by Taylor & Francis Newsroom