Flavour and Fragrance Natural and Synthetic Compounds Library (FFNSC 4)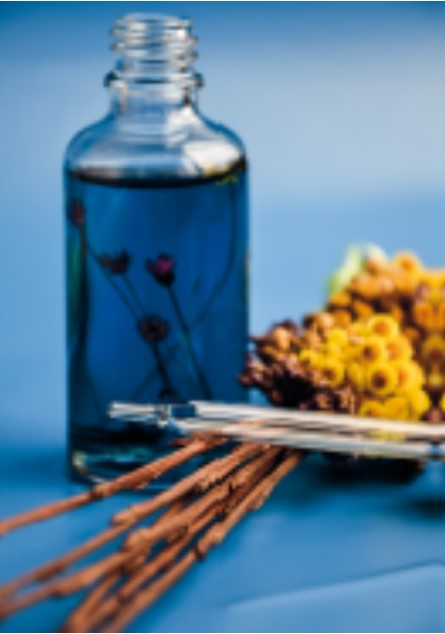 GC-MS technology is commonly used for flavor and fragrance analyses, and searching a library of GC-MS spectra is convenient for identifying unknown components. However, similarities in the mass spectra of some fragrant compounds makes identification challenging. Performing analysis using Shimadzu GC-MS enables obtaining mass spectra with similarities close to those registered in the library. The FFNSC 4 library contains retention indexes using three types of columns as well as mass spectra. Shimadzu's GCMSsolution library search, utilizing the retention index, provides highly accurate identification results and makes it ideally suited for flavor and fragrance analysis.
Specifications
Registered Compounds
4,030 flavor and fragrances compounds
Registered Retention Indexes
Non-polar column (SLB®-5ms)
Highly-polar column (SUPELCOWAX® 10)
Non-polar column (Equity®-1)
Registered Information

Mass spectrum, Retention index for each column, CAS number, compound name, molecular weight, compositional formula

Applicable models
GCMS-QP series and GCMS TQ series (single-quad mode only; does not include MS/MS spectra)
Filtering with Retention Index
Since flavor and fragrance components sometimes contain compounds having similar chemical structures, multiple compounds with similar mass spectra are listed as candidates when performing a library search using only the mass spectrum. Filtering with the retention index sorts the candidates by retention index, thereby providing highly accurate identification results.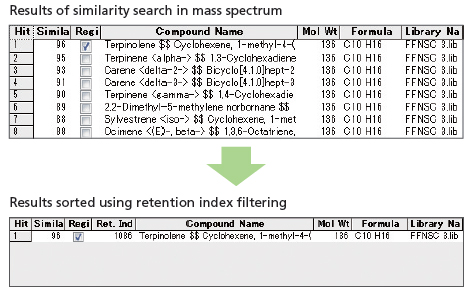 Multi-column compatible
All of the column retention indexes can be confirmed at the same time, which assists in close investigation of identification results.
​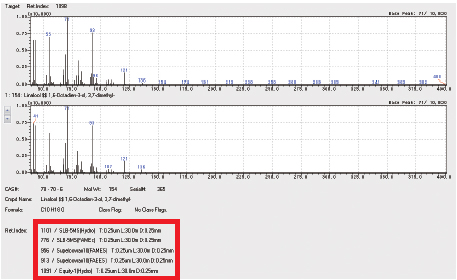 Various System Configurations
Through a choice of modules, detectors, components and accessories, dedicated application-specific GC-MS solutions are adjusted to the goal of a certain analytical task. Users can be sure to contribute to consumers and patients as well as environmental protection.
References / Scientific Publications
---
For Research Use Only. Not for use in diagnostic procedures.
This page may contain references to products that are not available in your country.
Please contact us to check the availability of these products in your country.