FLM-UVPC Film Thickness Measurement Software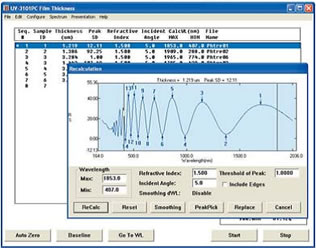 This software calculates film thickness from the
peak positions of the interference pattern caused
by the film. Film thickness is calculated by the method
of least square using the wavelengths of the all peaks
and valleys within a specified wavelength range.

For UV-2600 series/2700 series/3600/3600Plus series, SolidSpec series


PC software (compatible OS:Windows 10 (64bit) / Windows 7 (64/32bit))
This page may contain references to products that are not available in your country.
Please contact us to check the availability of these products in your country.