Achieves Higher Sensitivity and Improves Productivity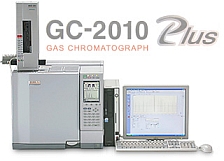 The GC-2010 Plus enables reliable, high-precision trace analysis with high repeatability, utilizing detectors such as FID and FPD that feature best-in-class sensitivity.
In addition, rapid oven cooling and backflush technology shorten analysis time greatly for significant improvements in productivity.
Features

A lineup of powerful detectors ensures the highest sensitivity - even for trace amount analysis.
Rapid oven cooling, backflushing technology, gas saver function, etc.
New flow-controlling technologies enable higher separation capability and faster analysis.
Broad Lineup of Units
You can select the most suitable detector and injection unit for your sample. Retrofitting of these units is easy.
Detectors

Injectors

Flame ionization detector
•

FID-2010 Plus

Split/splitless injection unit
•SPL-2010 Plus
Thermal Conductivity Detector
•TCD-2010 Plus
Direct Injection Unit
•WBI-2010 Plus
Flame Photometric Detector
•

FPD-2010 Plus

On-column/ programmed temperature injection unit
•

OCI/PTV-2010

Electron Capture Detector
•ECD-2010 Plus
Flame Thermionic Detector
•FTD-2010 Plus
This page may contain references to products that are not available in your country.
Please contact us to check the availability of these products in your country.