* Sales area: All areas excluding North America
In industrial fields, various surface inspection technologies are widely used to ensure stable production of high quality products. Imaging mass spectrometry is capable of analyzing various contaminants that cannot be detected by conventional surface inspection methods, and it is possible to gain new knowledge for higher quality production.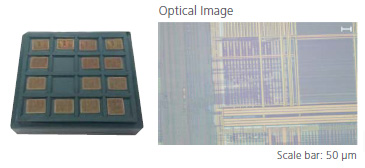 An example using IC chip is shown on the left. A wide variety of optical images and mass spectrometry imaging technologies are used to support cutting-edge research.

For Research Use Only. Not for use in diagnostic procedures.
This page may contain references to products that are not available in your country.
Please contact us to check the availability of these products in your country.