19.07. - 22.07.2016
University of Hamburg, Hamburg, Germany
http://www.iseac-conferences.org/index.php/home/iseac39-hamburg
Poster
"Fast and simple determination of free amino acids in beer"
Gesa J. Schad1, Brigitte Bollig1, Robert Ludwig1, Björn Thoralf Erxleben1
"500 years Beer Purity Law - Looking for contaminants"
Uwe Oppermann1, Anja Grüning1, Sigrid Baumgarten1, Jan Knoop1
"Determination of organic and inorganic contaminants in wine using GCMS and ICPMS spectrometry"
Uwe Oppermann1, Jan Knoop1, Ludivine Fromentoux1
"A closer look at mineral oil fractions"
Andrea Jurek2, Erich Leitner2, Uwe Oppermann1
"Characterization of wines produced from fungus resistant grapes"
Claudia Koraimann2, Erich Leitner2, and Uwe Oppermann1
"Extraction and quantification of mycotoxins in peanut butter using SFE-SFC-MS"
Gesa J.1, Tairo Ogura3, Kenichiro Tanaka3
"Comprehensive LC x LC analysis of flavoring ingredients in distilled spirits"
Gesa J. Schad1, Brigitte Bollig1, Robert Ludwig1, Björn Thoralf Erxleben1
1 | Shimadzu Europa GmbH, Duisburg, Germany
2 | Graz University of Technology, Graz, Austria
3 | Shimadzu Scientific Instruments Inc., Columbia, USA
4 | University of Applied Sciences, Krefeld, Germany
Lunch Seminar
In food we trust

– Analytical solutions for food analysis
Application Handbook Food - Download now!
Download PDF (50 MB)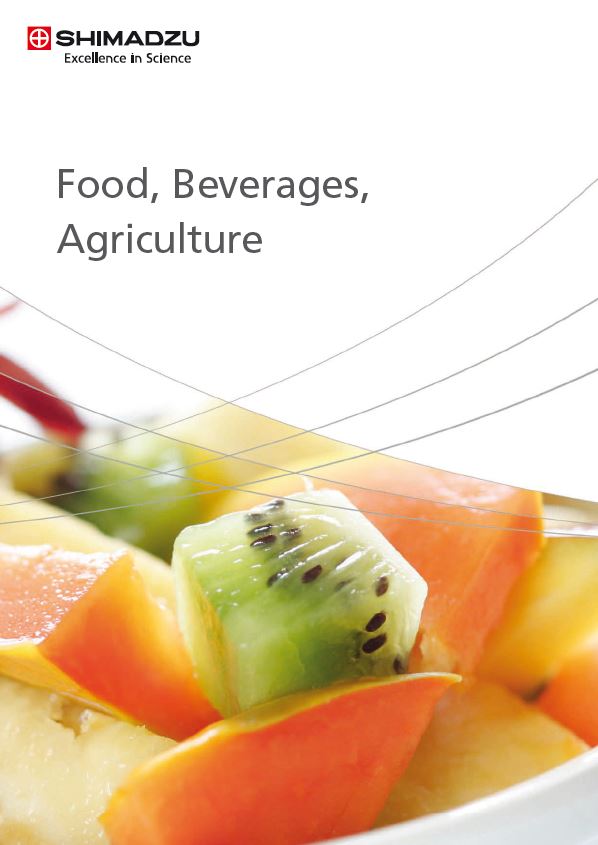 Product Lineup
The ICPMS-2030 is the first inductively coupled plasma mass spectrometer including two assistant functions for analytical method development and diagnosis of analytical results. The newly developed collision cell provides highest sensitivity and lowest interferences. The use of the patented environmental friendly mini-torch results in lowest running cost.
The Nexera UC is the world´s first- ever unified and fully automated system combining supercritical fluid extraction (SFE) with supercritical fluid (SFC).
Shimadzu´s new LCMS-8060 makes a real difference to working better and faster. The LCMS triple- quadrupole combines all UF technologies and pushes the limits of LC-MS/MS quantitation for applications requiring highest sensitivity and robustness.