The Most Accessible UHPLC Available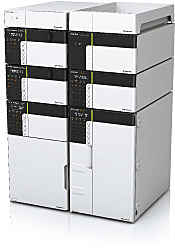 Developed with expandability and compatibility in mind, the Nexera XR ultra high performance liquid chromatograph enables more customers to make use of high-speed, high-resolution systems. Configure the optimal system to meet the specific analysis objective by selecting from among a wide range of highly accurate and reliable modules. The next milestone in the evolution of liquid chromatography, the Nexera XR promises to become an indispensable tool in laboratories in a variety of fields, including pharmaceuticals, biochemistry, chemistry, environmental, and foods.

Expanding the Possibilities of UHPLC
Superb Functionality
Accuracy and reproducibility of solvent delivery and injection volume are particularly important performance aspects. Shimadzu addressed these features by incorporating superb technology as a fundamental element. Furthermore, improved hardware components support high-speed analyses, which have accelerated via advances in column technology.
As the most accessible UHPLC available, with a pressure resistance of 66 MPa, the Nexera XR truly provides the optimal solution for a diverse range of applications.
Extensive Lineup
A solvent delivery unit compatible with small-capacity, low-pressure gradient units is the latest addition to the Nexera XR lineup. With its modular design, the Nexera XR allows configuration of systems geared to meet specific application requirements. Each module delivers excellent, reliable performance across an extensive analytical range, from HPLC to UHPLC.
Balancing Performance with User-Friendliness
The most accessible UHPLC available, the Nexera XR provides excellent performance while ensuring ease-of-use. In addition, although the Nexera XR is in the UHPLC category, the replacement frequency for consumables has been kept to a minimum, making the ease of maintenance comparable to that of an HPLC system.
Method Compatibility
Constructed with a focus on compatibility with general UHPLC systems, the Nexera XR is optimized for method transfer from competing systems. In addition, the system capacity can be changed to suit the objective, enabling smooth HPLC method transfer.
Detectors Offering World-Leading* Sensitivity
The SPD-M30A photodiode array detector and the RF-20Axs fluorescence detector offer world-leading sensitivity. Equipped with a temperature control function to suppress the effects of room temperature fluctuations, these detectors achieve excellent baseline stability and reproducibility.
* As of August 2013, according to Shimadzu survey.
For Research Use Only. Not for use in diagnostic procedures.
This page may contain references to products that are not available in your country.
Please contact us to check the availability of these products in your country.