The CLAM-2000 fully automated sample preparation module for LCMS is based on the extensive blood coagulation analyzer technology that Shimadzu has cultivated over many years. Simply place blood collection or other tubes in position and the system fully automates everything from pretreating blood or other samples for analysis to LCMS analysis. Consequently, the system is able to minimize human error and variability in sample pretreatment procedures. Therefore, it helps achieve a high-precision workflow for clinical research that is safer, faster, and simpler.

Seamless Integration of Sample Preparation and LC-MS/MS Analysis.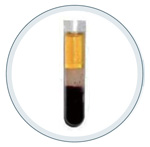 Simply place the blood collection tubes to be analyzed, necessary reagents, and specialized pretreatment vials into the CLAM-2000 which then performs all processes automatically.
Each sample is processed successively in parallel, to optimize instrument usage and sample throughput.
The CLAM-2000 frees up time spent by laboratory staff performing tedious sample preparation steps, thus increasing laboratory efficiency.
Thorough Precision Control of Analytical Results.

Easy to access software controlled management of reagents, calibration curves, control samples, and system maintenance ensures system performance and reliability.
Easy to interpret charts and figures alert users to decreasing reagent volumes or variable QC sample results.
Reduces Operator Errors and Enhances Laboratory Safety During Procedures.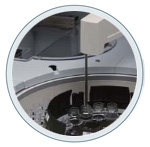 Eliminates manual operations involving biological samples, such as dispensing. Not only does this improve reproducibility of data, but it minimizes user contact with biohazardous material.
Potentially infectious waste products are kept isolated inside the system. This allows such waste to be disposed of after the analysis is finished, according to the procedures specified for that laboratory.
For Research Use Only. Not for use in diagnostic procedures. Not available in the USA, Canada, and China. This page may contain references to products that are not available in your country. Please contact us to check the availability of these products in your country.