GLP/GMP Support
User Management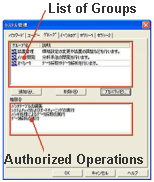 Users are registered by selecting the group to which they are assigned. This group determines what operations are available to that user. Default settings include an instrument administrator, method developer, and operator groups. However, new groups can be created or edited, which allows configuring detailed security measures according to specific administrative requirements.
Various Validation Functions
The Ultra includes software validation and QA/QC functions based on the GC-2010 self-diagnostic and alteration check functions.
Audit Trail
A history of each parameter change and its reasons can be saved check the traceability of analytical results. Also, data files contain a record of the method used to acquire the data, so instruments can be returned to their state immediately after performing an analysis.
This page may contain references to products that are not available in your country.
Please contact us to check the availability of these products in your country.