Method Package for Drugs of Abuse

Ready-to-Use Methods Provided

The LC/MS/MS Method Package enhances efficiency in workflow for simultaneous multi-compound analysis, enabling researchers start their analysis without setting complicated separation parameters or optimizing the MS parameter to each compound.
Methods Easily Customized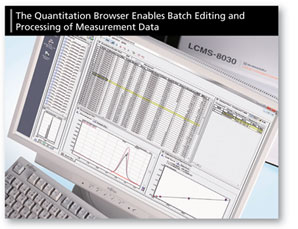 Since LabSolution Version 5 enables the addition or deletion of components to beanalyzed, methods can be easily customized. In addtion, the package includes a compound parameter list created in table calculation format, which enables the creation of new tables that list only the components needed.
Product Ion Scan Spectral Library Includes 286 Components

Database contains product ion scan spectra for 286 drugs of abuse-related compounds such as 87 illicit drugs, 105 psychoactive drugs, 70 hypnotics and others. This library provides Synchronized Survey Scan parameters (product ion spectral data acquisition parameters based on the MRM intensity as threshold) optimized for screening analysis. Moreover the database provides simultaneous analysis methods for the most frequently analyzed 100 components of illicit drugs, psychoactive drugs and hypnotics etc.
HPLC Conditions

Analytical column : Shim-pack FC-ODS(2.0 mmI.D. x 150 mmL., 3 μm)
P/N S228-40511-95
Mobile phase A : 10 mmol/L ammonium formate
Mobile phase B : Methanol
Flow rate : 0.3 mL / min
Injection volume : 5 μL
Synchronized Survey Scan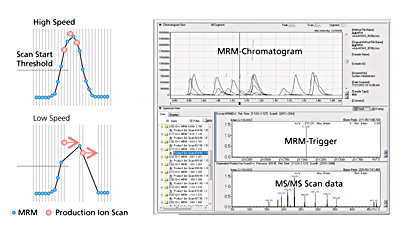 MS/MS acquisition modes
MRM, Q3 scan, Neutral loss scan, Precursor ion scan


Ultra fast polarity switching and ultra fast scanning function


Improved reliability in quantitation of compounds by product ion scan spectrum


This method package provides MRM product ion scans.







Library search with MRM-Production Ion Scan

The library search result of benzothiazepines and the attributed spectra are displayed.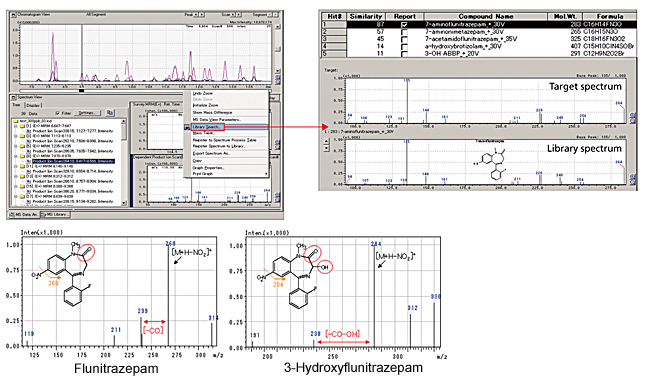 Remarks and Precautions

Shimadzu makes no warranty regarding the accuracy of information included in the database or the usefulness of information obtained from using the database.
Be sure to perform tests using standard samples to confirm qualitative and quantitative information obtained with the given system.
To reliably identify registered substances using this database, measure samples using the instrument parameters specified in the method template files included in the product.