Shimadzu UFLC Data Sheet for LC and LC-MS(/MS)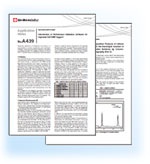 Thank you for your interest in Shimadzu's LC Data Sheet. Here with we are pleased to share with you our Data Sheet describes details of Shimadzu's LC and LC-MS(/MS) product's features and benefits sprinkled with analysis data.
The documents listed below are now available for download by clicking the titles and completing registration to literature service on our website. Registration is free and only takes a few minutes.